Apply for the Hertz Fellowship
Thank you for your interest in the Hertz Fellowship. The application for the academic year 2020–2021 will open in August 2020.
---
2021 Fellowship Application
Application Opens: August 2020
Applications Due: October 2020
2021 Fellowships Awarded: March 2021
The Hertz Fellowship application opens each year in August to coincide with announcements by the National Science Foundation and other major institutions that award fellowships. Hertz fellowships are awarded in March of the following year.
The Hertz Fellowship application process has evolved for decades to help us identify the most promising talent in science and technology. At each stage, our selection committee makes decisions by focusing on the exceptional and unique aspects of each applicant. We consider written responses to application questions, letters of recommendation, and two rounds of rigorous, in-person interviews.
How We Identify Fellows
When we select a Hertz Fellow, we're investing in a person's potential to be a leader in their field who will address the most pressing challenges facing society. While there is no perfect predictor of future success, there are certain attributes common to Hertz Fellows that we try to identify when we evaluate applicants.
Deep, Integrated Knowledge
Grades and test scores only tell part of the story. We're looking for applicants with deep scientific and technical knowledge who can drive the exploration of complex, multidisciplinary topics and who can clearly articulate their ideas during in-person conversations with our interviewers.
Creative Problem Solvers
Today's challenges cannot be solved with yesterday's thinking. To make an impact, we need creative problem solvers—fellows who can bring together expertise, resources, and critical thinking from different fields to create a solution far greater than the sum of its parts.
Commitment to the Greater Good
Hertz Fellows aren't just hoping for a better future. They are working to create it, directing their talents toward solving real-world problems that impact our nation and the world.
Active Leadership
Breakthroughs don't happen overnight. They require self-starters who can gain the trust of their colleagues, build consensus around an ambitious vision, and then deliver on that promise down to the details.
Lifelong Achievers
Whether it's innovative undergraduate research, excellence in high school ROTC, or advancing a cause you care about, we're looking for rising stars with a track record of success every step of the way—and a desire to grow in the process.
"We have a front seat to watching how young people choose to apply their experience."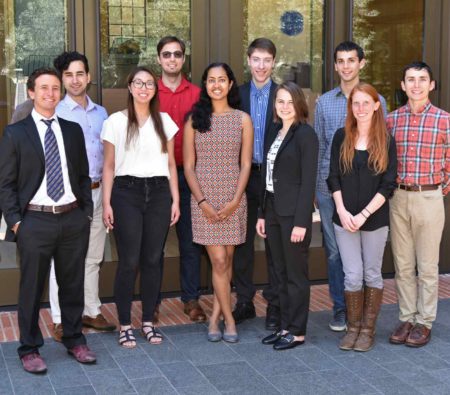 Meet the Class of 2019
From designing safer robots to repairing the brain, the Hertz Fellowship Class of 2019 is tackling the most pressing challenges.
Our Fellows