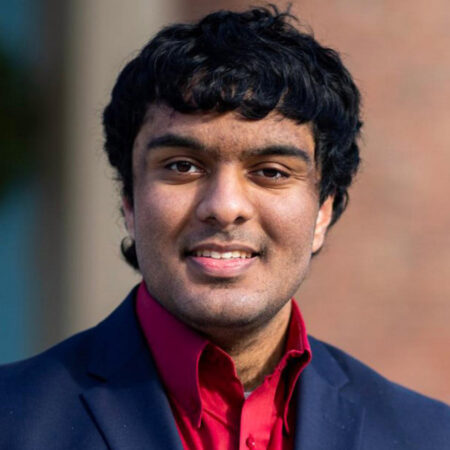 Shuvom Sadhuka wants to apply mathematical algorithmic principles to the biological sciences to help create more efficient, private and robust tools for analyzing biological—especially genomic—data.
Many of the current bottlenecks in genomics, precision medicine and translational research revolve around the need for new, more efficient ways to analyze large, complex datasets. A better understanding of the human genome, as revealed by new sequencing and analytic technologies, can shed light on broad scientific questions ranging from human evolution to cancer biology. Sadhuka is passionate about applying his expertise in computer science to these kinds of problems.
As a graduate student at the Massachusetts Institute of Technology, he hopes to leverage ideas from algorithmic privacy, machine learning and data structures to create safe and efficient methods to accelerate biomedical research.
Sadhuka will graduate from Harvard University in spring 2022 with a bachelor's degree in statistics and computer science. At Harvard, Sadhuka carried out bioinformatics research with Hoon Cho at the Broad Institute, and he plans to work with Bonnie Berger at MIT. His work has spanned computational physics, statistical genetics and biomedical data privacy.
Sadhuka grew up in Massachusetts. Outside of school and research, he enjoys dancing, hiking, biking and cheering for New England sports teams.
"Understanding the human genome allows us to answer deep scientific questions, from how ancient humans migrated around the world to how complex diseases such as cancers develop from small genetic mutations within our DNA."
Graduate Studies
Massachusetts Institute of Technology
Undergraduate Studies
Harvard University
Related News
May 24, 2022
From defending the nation's digital infrastructure against cyberthreats to developing electronics that can reduce our dependence on fossil fuels, the 2022 Hertz Fellows will address the most pressing challenges facing our nation.