The Hertz Fellowship
The Hertz Fellowship is not a prize for past achievement—it's an investment in the future.
The Hertz Fellowship is awarded annually to the nation's most promising graduate students in science and technology. Using a rigorous, merit-based process, we identify innovators with the greatest potential to create transformative solutions to the world's most urgent challenges.
What Makes the Hertz Fellowship Unique?
Freedom to pursue bold ideas.
You'll receive five years of funding, valued at up to $250,000, and the freedom to pursue innovative ideas wherever they may lead.
A powerful, connected community of peers.
You'll join a diverse community of more than 1,200 peers, creating lifelong connections that will accelerate your career.
Lifelong professional support.
You'll be invited to special events throughout your career, including scientific symposia, professional development workshops, and social networking opportunities.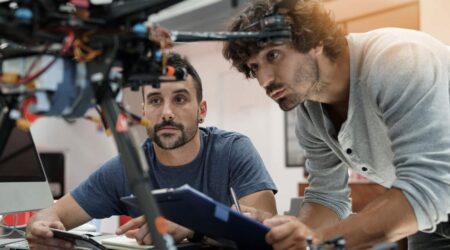 Fellowship Application Details
The Hertz Fellowship application process has evolved over decades to ensure that we identify the most promising talent in science and technology. We encourage all applicants to show us what motivates you and how you can apply your knowledge and skills to do great things.
Application instructions and selection timeline.
---
Fellows make a moral commitment to put their skills to work in times of national emergency.
---
Fellows have two options for receiving up to $250,000 in fellowship compensation.
---
Fellows in diverse fields are applying their work toward solving real-world problems.
---
The nation's most promising talent comes from different disciplines, backgrounds, and points of view.
---
The Hertz Foundation has agreements in place with more than 40 top universities.
---
Identifying a Hertz Fellow
While there's no perfect predictor of future success, there are a few attributes common to Hertz Fellows that we try to identify in our applicants. More about what makes a fellow.
Deep, Integrated Knowledge
Commitment to the Greater Good
Progress Without Limits
The Hertz Fellowships provides fuel for graduate students with the most exceptional potential. It grants them the freedom to pursue bold ideas, powerful collaborations, and promising opportunities—even if it means changing course at times or pursuing unexpected challenges.
The Fellows Community
When you become a Hertz Fellow, you join our powerful community of more than 1,200 fellows, spanning disciplines, geography, and generations.
Explore the community