If 2021 taught us anything, it is the power of investing in our nation's future science and technology leaders.
Amid a global public health crisis, emerging threats to cybersecurity and expansive environmental catastrophes, it is our nation's scientists, engineers, mathematicians and computer scientists — many of them Hertz Fellows — who have stepped up to provide trustworthy breakthroughs and technological advancements that have saved lives.
Inspired by their moral commitment to act in times of emergency, Hertz Fellows have, among other things, published the first contact-tracing app in the United States, led nationwide clinical trials for potential COVID-19 treatments and developed new technology for rapid virus detection.
It is due to the vision and generosity of donors like you, who know the value of early investments in our nation's science and technology leadership pipeline, that Hertz Fellows were empowered to put their talent to work when it was needed most. In 2021, we funded 12 new remarkable Hertz Fellows while again enjoying annual growth in philanthropic support. New gifts and pledge payments totaled $4.24 million from 388 fellows, organizations and other friends of the foundation, 43 of whom were new donors this year.
Please take a few minutes to explore our financial information in more detail and don't hesitate to contact us if you have any questions. We look forward to your continuing engagement and support.
---
Fundraising Overview
As economies rebounded and individuals regained financial confidence in fiscal year 2021, the Hertz Foundation enjoyed modest growth in philanthropic support. New gifts and pledge payments totaled $4.24 million from 388 fellows, organizations and other friends of the foundation, 43 of whom were new donors this year. We have a way to go before breaking any prior fundraising records, but we are headed in the right direction.
Looking to the future, supporters pledged another $1.1 million in commitments to be fulfilled in the coming years. One special highlight of fiscal year 2021 was the completion of the 60 Fellowships Initiative, which has supported dozens of fellowships and inspired new giving opportunities since its launch in 2015. These fellowship gifts accomplish twin goals: They create special connections between donors and recipients that last a lifetime, and they supply stable financial support for fellows.
This continuing growth in philanthropic support is due to you, our visionary donors, who share our commitment to advancing breakthroughs in science and technology that strengthen our nation's security and economic vitality. Your support helps us fund our in-school fellows; our mentoring, networking, science briefings and other Hertz community programs; and our capacity to strengthen the foundation.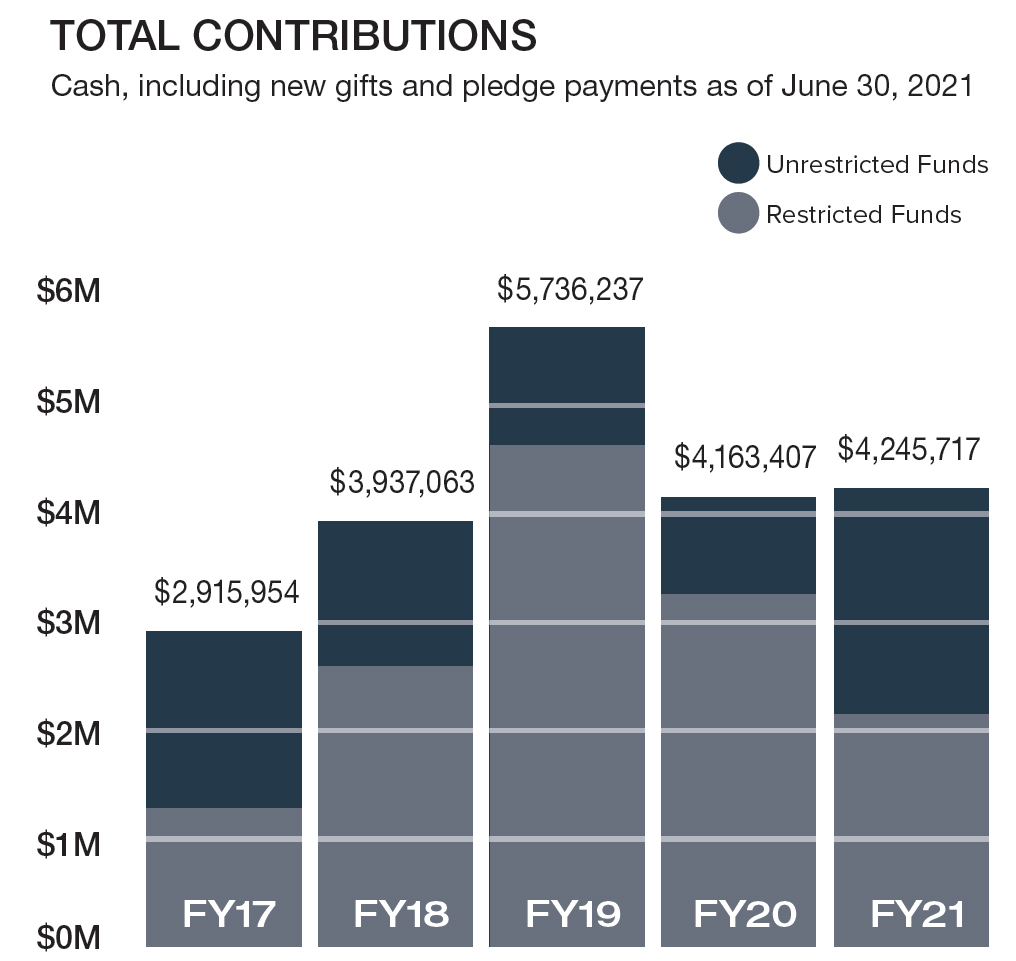 Donor Participation
Nearly half — 48% — of all Hertz Fellows have made at least one gift to the foundation, and many have given every year. In fiscal year 2021, gifts were received from 388 fellows and friends. Once again, the annual percentage of fellows who supported the foundation (28%) topped graduate alumni giving to every major U.S. research university except for one Ivy League university. As always, we are incredibly grateful for the loyal support from our fellows, friends and partnership organizations.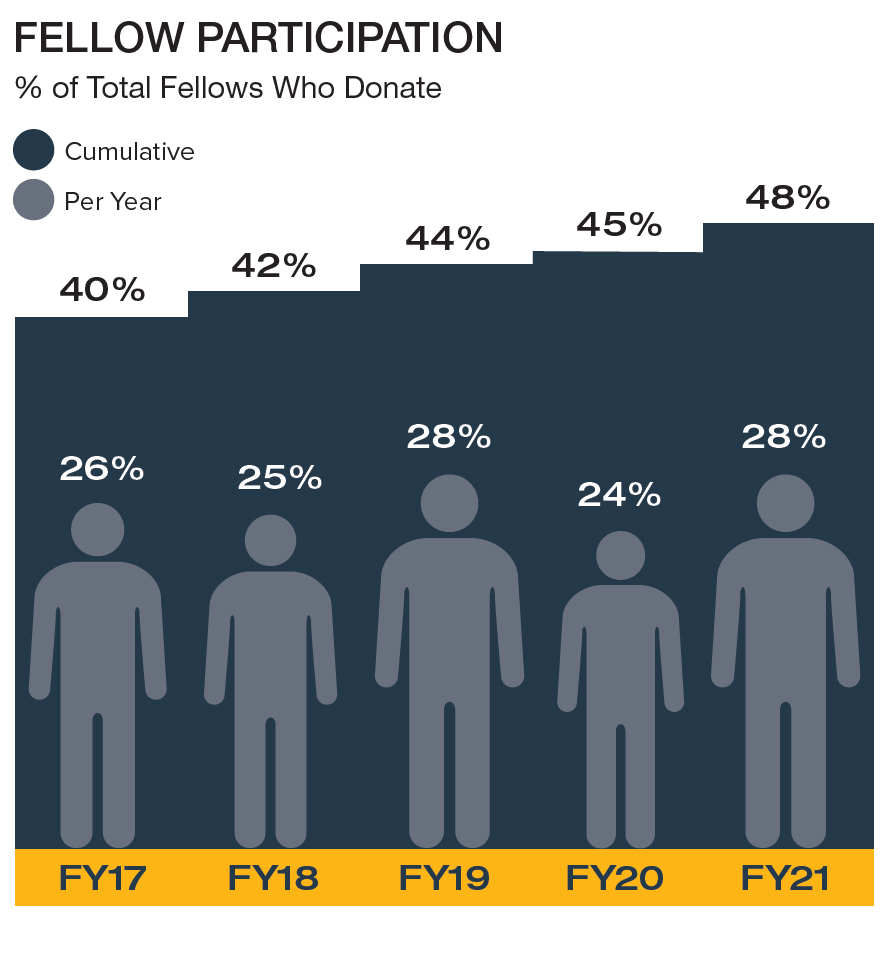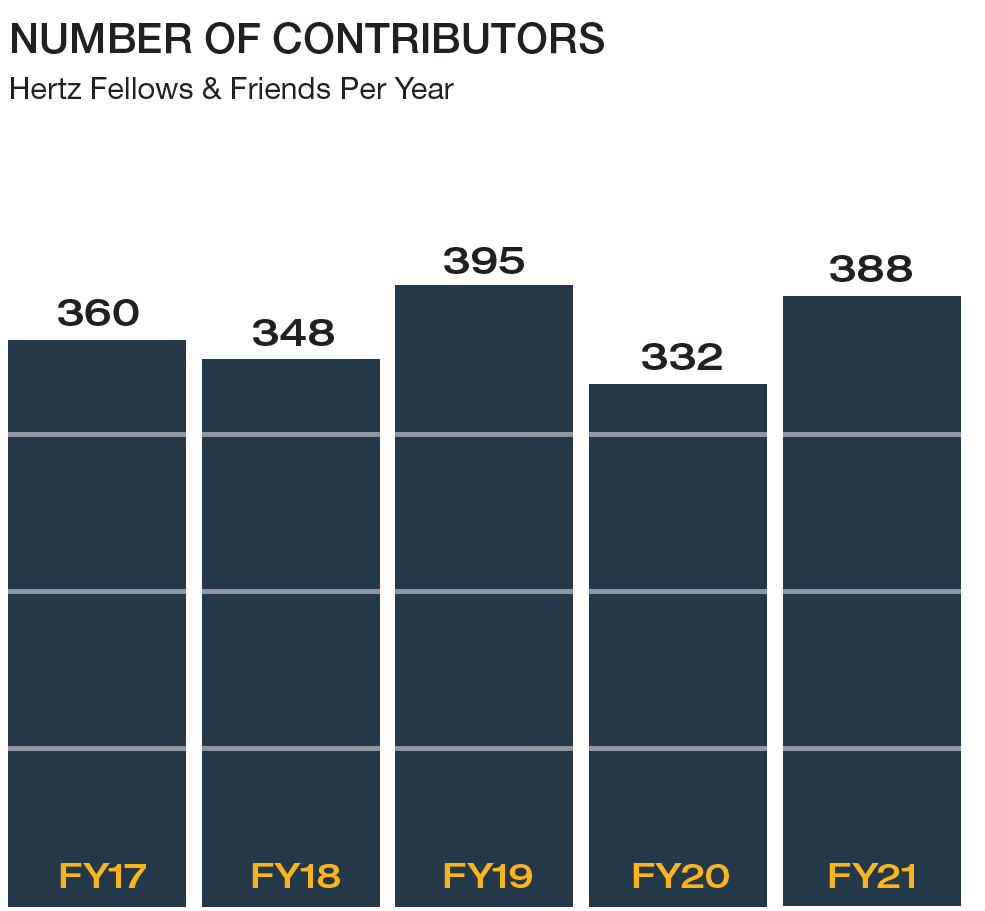 Investment Strategy
A Letter from the Treasurer
The investment portfolio is now managed by Goldman Sachs with oversight by the board's Investment Committee, chaired by director Michael Ansour. In 2021, it reached a 13-year high, more than recovering from its COVID-19 depressed levels. But we cannot expect such returns every year. While we have a strong rate of giving from fellows, well above that of almost any university, we must expand our fundraising efforts beyond Hertz Fellows. Unlike universities, which also charge tuition, Hertz relies solely on gifts to fund our students. Our costs to raise funds do not increase significantly as fundraising revenue increases: thus, additional gifts go entirely to support fellows.
As of June 30, 2021, assets totaled $29.2 million, a 17% increase from 2020. Assets include $2.4 million in cash/cash equivalents, $4.4 million in pledges receivable and $22.3 million in the investment portfolio. Net assets also increased 17% in 2021. For the fourth year in a row, our endowment withdrawal rate is below 5%, maintaining the goal set by the board of directors in 2016 and achieved just two years later. We withdrew $300,000 in 2021, compared to $4 million in 2016. We also saw progress toward the goal set in 2016 to raise at least $17.4 million by 2021. The foundation has raised $21.2 million, 22% ahead of our projected pace.

Paul Young
Treasurer, Hertz Foundation
---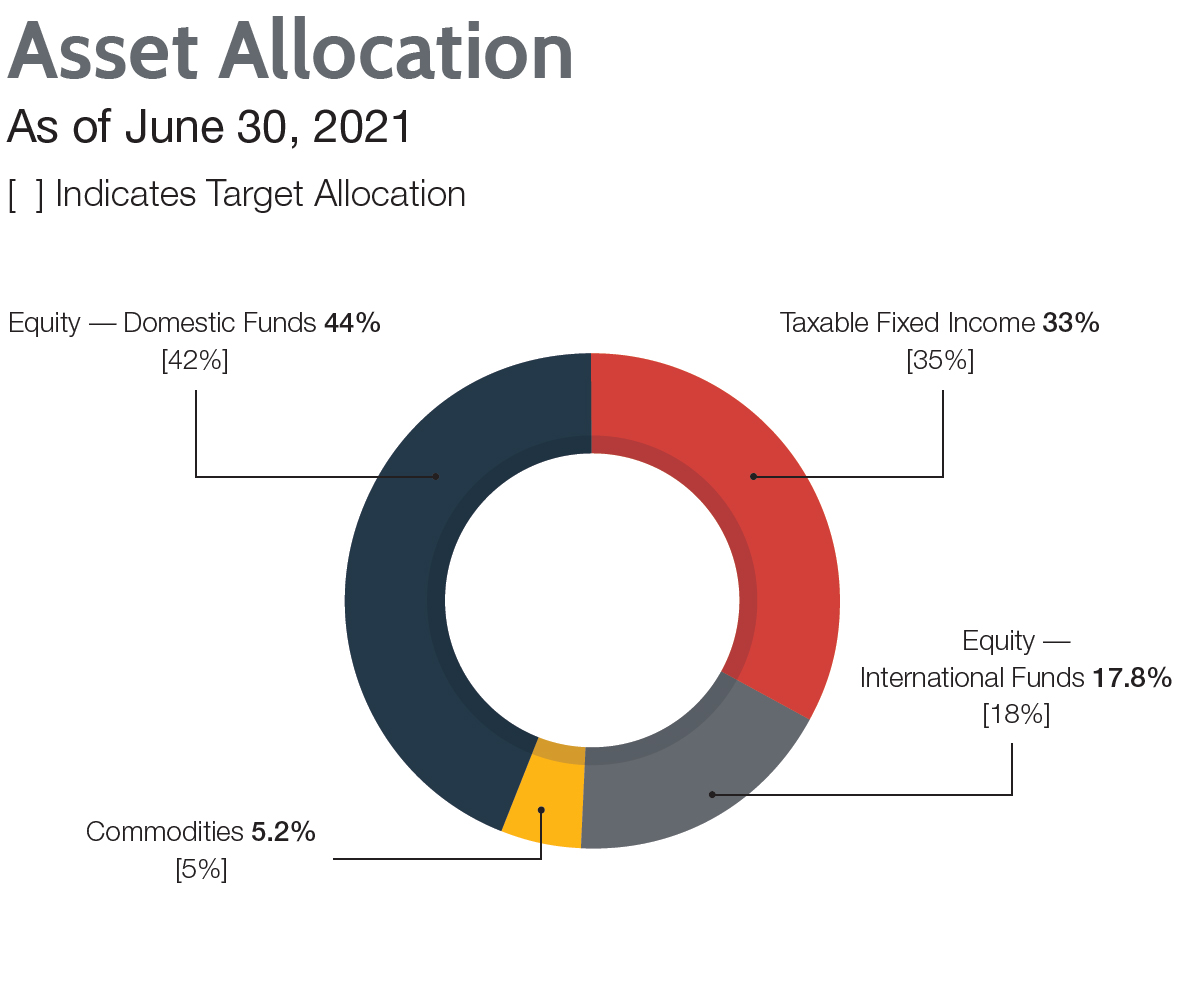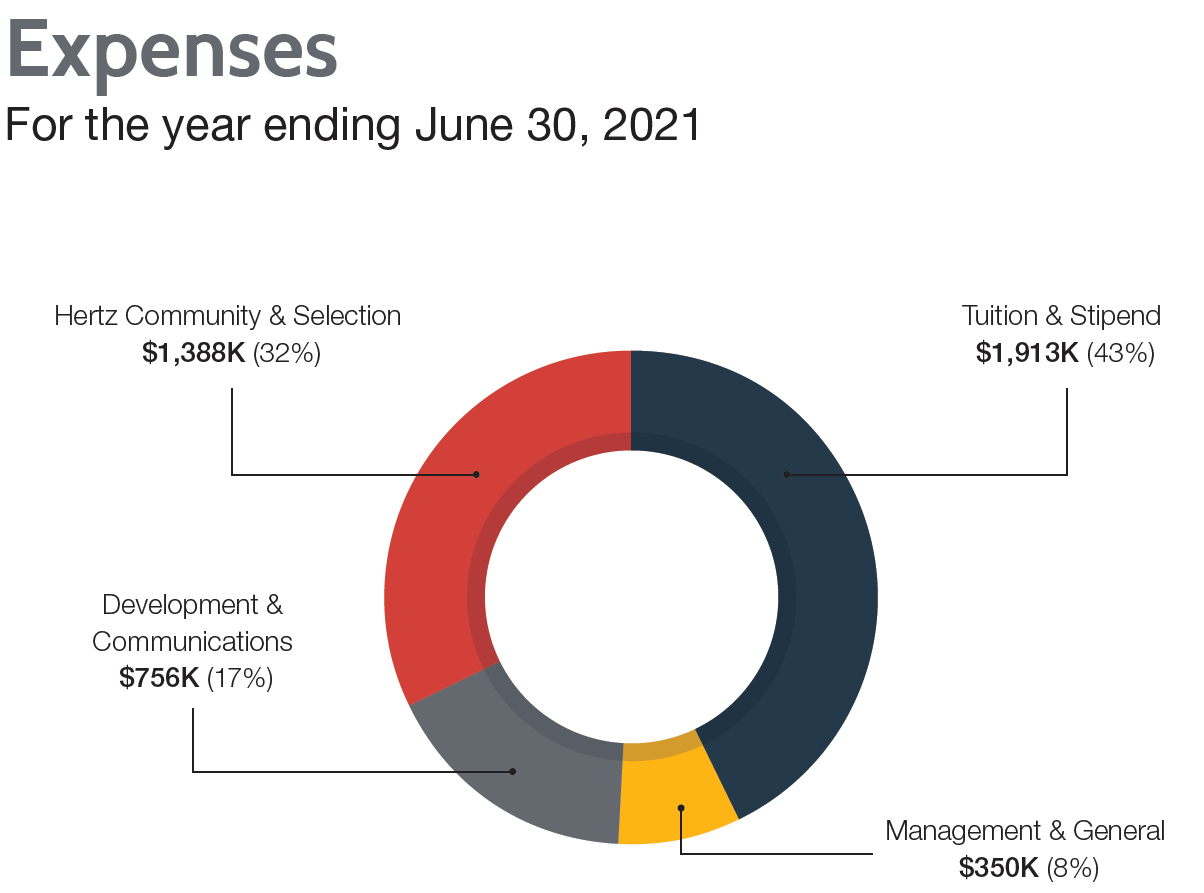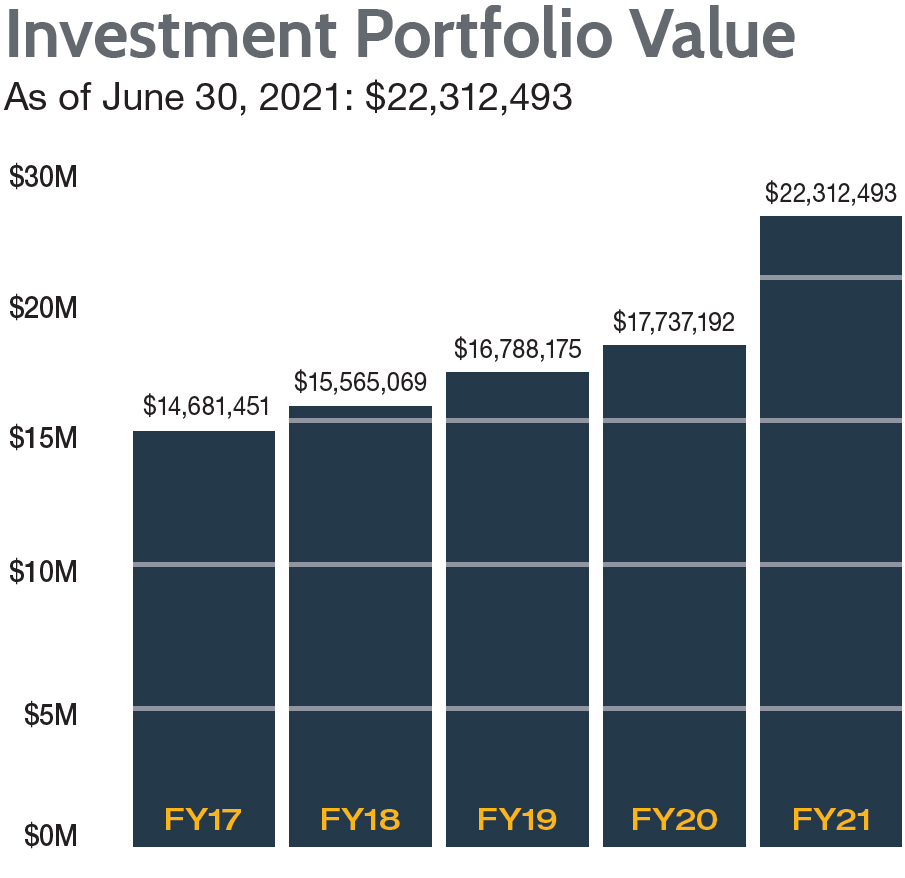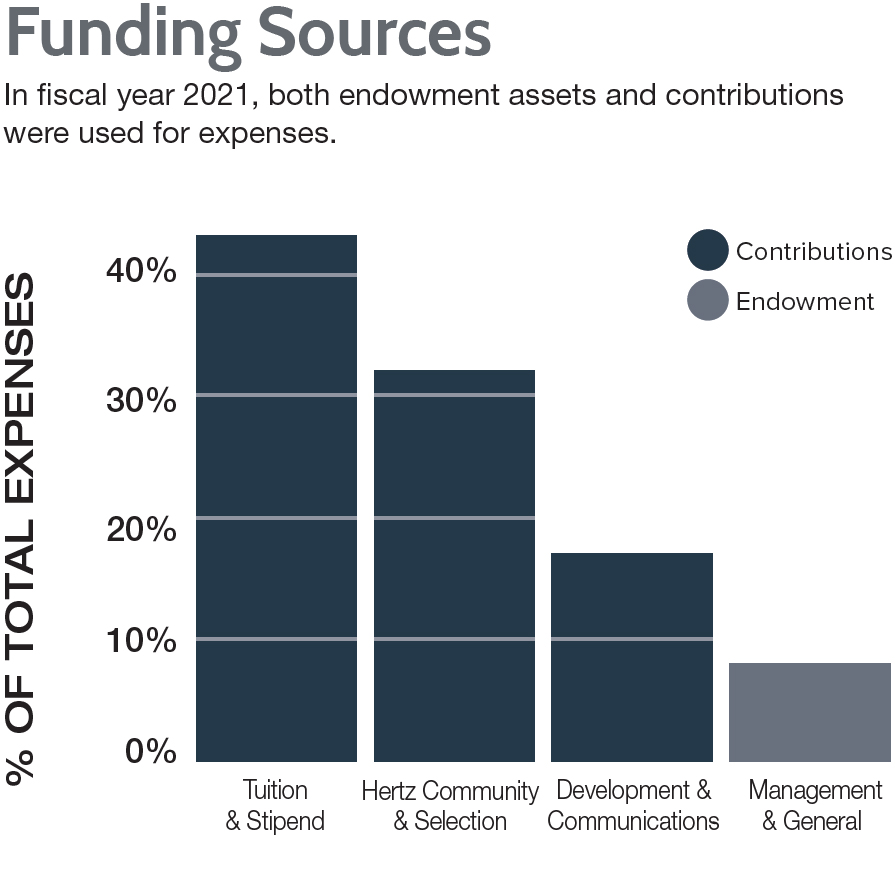 ---
Documents
Tax Information
The Fannie and John Hertz Foundation is a tax-exempt 501(c)(3) not-for-profit organization.
Our tax ID is 36-2411723.