With the worst pandemic in a century, 2020 was a year like no other in the collective memory of our country. Just as Fannie and John Hertz envisioned, the Hertz Foundation was created for such moments in history.
In 2020, we awarded 16 Hertz Fellowships, the most in more than a decade. Despite economic fallout from the pandemic, donor confidence remained strong, with 332 donors contributing over $4 million and new multiyear pledges totaling over $1.5 million, exceeding last year's total. Over the past few years, donors have partnered with us to fund 58 new named and endowed fellowships.
Please take a few minutes to explore our financial information in more detail and don't hesitate to contact us if you have any questions.
Together, we can expand and accelerate our nation's pipeline of leading scientific talent, amplify our fellows' impact, and discover new opportunities for the future of science. We look forward to your continuing engagement and support.
---
Fundraising Overview
The twin challenges of the COVID-19 pandemic and the resulting economic fallout impacted the final months of the foundation's fiscal year, though certainly not with nearly the same force as they hit other public charities. In fiscal year 2020, new gifts and pledge payments totaled $4.16 million from 332 fellows, organizations, and other friends of the foundation, 23 of whom were new donors this year. Donor confidence remained high, as supporters pledged another $1.56 million in commitments to be fulfilled in the coming years.
One special highlight of the 2020 fiscal year was continued progress on completing the "60 Fellowships Initiative," which has supported dozens of fellowships and inspired new giving opportunities since its launch in 2015. As of December 2020, only two more fellowships are needed to reach that target. For information on how to establish a named or endowed fellowship, please see page 10.
This continuing growth in philanthropic support is due to you, our visionary donors, who share our commitment to advancing breakthroughs and discoveries in science and technology. Your support helps us fund our in-school fellows; our mentoring, networking, science briefings, and other Hertz community programs; and our capacity to strengthen the foundation. With your continued and expanded support, we share in the goal of funding all of the worthy fellowship candidates we identify each year.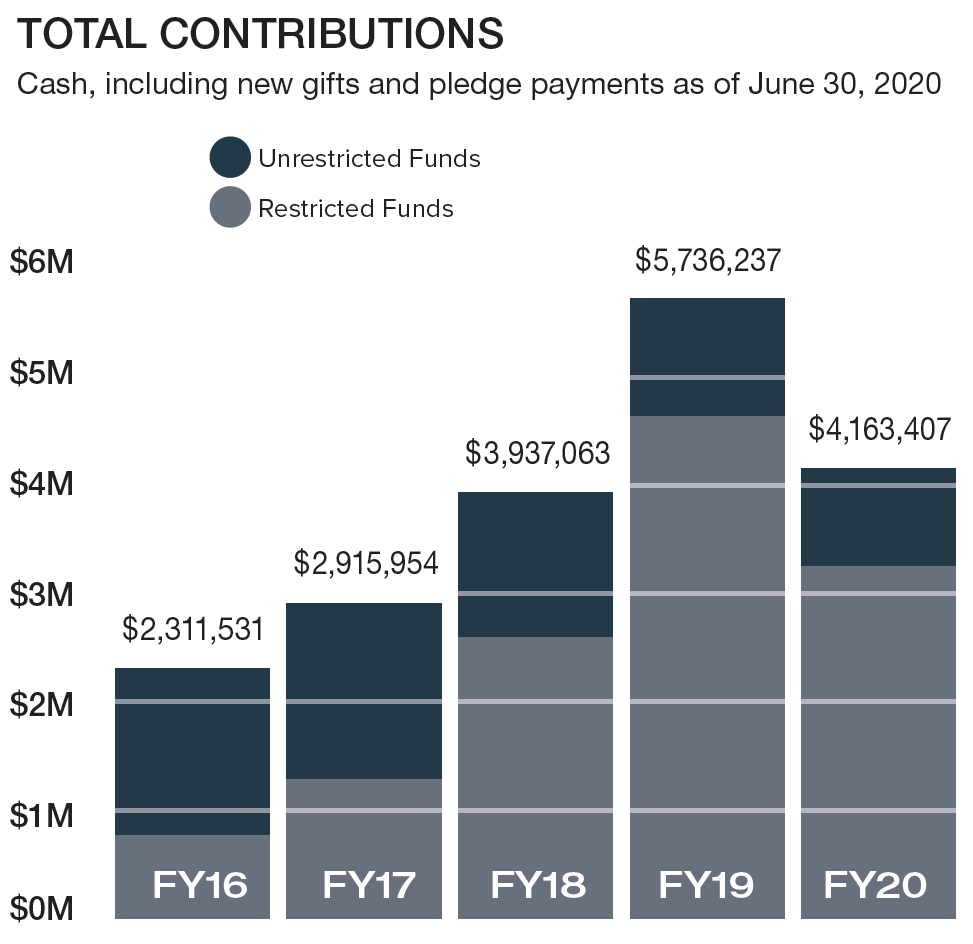 Donor Participation
Nearly half–45 percent–of all Hertz Fellows have made at least one gift to the foundation, and many have given every year. In fiscal year 2020, gifts were received from 332 fellows and friends. Once again, the annual percentage of fellows who supported the foundation (24 percent) topped graduate alumni giving to every major US research university except for one Ivy League university. Especially in this challenging year, we are incredibly grateful for the loyal support from our fellows, friends, and partnership organizations.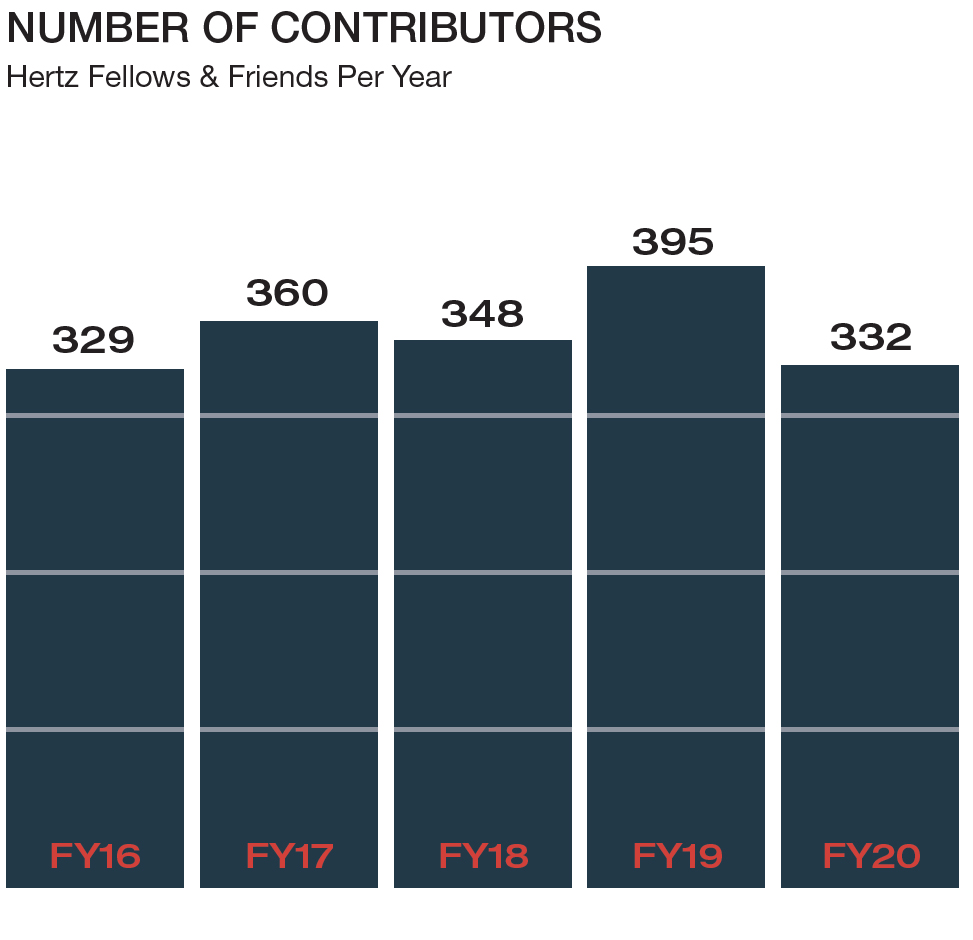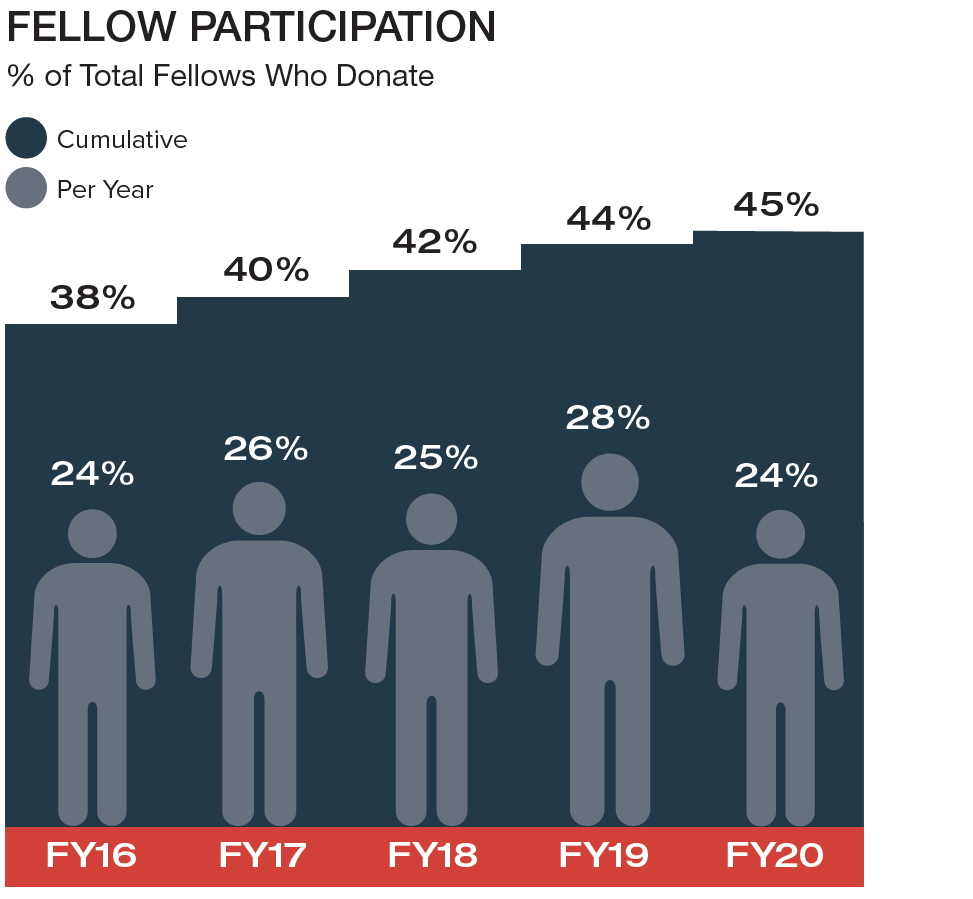 Investment Strategy
A Letter from the Treasurer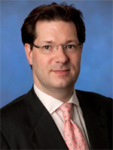 The Hertz Foundation has now been a public charity for over 10 years and, thanks to our generous donors, we continue to execute on the purposes of John and Fannie Hertz, who established the foundation to strengthen the United States of America and the world. While our endowment is not the strength that in old days moved earth and heaven (my apologies to the poet), for three years now we have not even drawn down 5 percent on it—meeting the standard for prudently run organizations that wish to operate in perpetuity.
Our fellowship selection team, led by Philip Welkhoff, assures me that they can identify roughly two dozen individuals each year who meet a standard equal to or greater than that observed these last many decades. While in 2019 we awarded 11 fellowships, we were able to award 16 in 2020—the largest number in over a decade. The commitment of individual members of the board—upon seeing the inspiring talent of our applicants—was the reason for the expansion. When individual donors see the quality and energy of the applicants, they are moved—and appropriately so. (I am sure glad I don't have to compete with these people today!)
Unusual among graduate fellowships, the Hertz Foundation provides fellows with a full five years of funding. Those of us who have PhDs (such as yours truly) can tell you that a three-year fellowship—such as the NSF fellowship—does not provide the security that a student needs to properly enjoy the freedom to innovate. I feel some measure of shame that our stipend is not higher, but I suppose that is why I accepted the role as your treasurer—in hopes of changing that (and, of course, building up to two dozen fellows each year).
In 2020, the Hertz Foundation awarded 16 fellowships—the most in over a decade.
As of June 30, 2020, the foundation's assets totaled $24.9 million, composed of $17.7 million in investments, $2.3 million in cash and equivalents, and $4.8 million in pledges receivable. This represents the highest point in assets since 2008. Over the last four years, our net assets have grown at an average rate of 4 percent—which is good, but probably not where we want to be in a (relatively) positive investment environment. Our investments are roughly deployed at 70 percent equity and 30 percent fixed income, and our investment results are in line with that strategy—which seeks to produce growth and income while maintaining a cushion for the security of our in-school fellows and the foundation.
While we are very dependent on our year-to-year donations, our donors have been very supportive. In 2016 the board set a fundraising goal of $17.4 million by 2021, and President Robbee Kosak and her team are 35 percent ahead of our projected pace. This is good news indeed. We raised $4.2 million in this year, despite the COVID-19 pandemic, and $5.7 million in the previous year.
The major problem I see for our foundation is that it is under-leveraged. We have all the infrastructure in place to award 25 fellowships a year and maintain 125 fellows in the field. And did I mention we also maintain and support a vibrant community of Hertz Fellows? While our expenses for fellowships scale with the number of fellows, our infrastructure does not. As a result, our endowment is currently too small for the way we ought to be conducting our mission. So, I shall work with all of you in order to achieve our shared goals—and grow that endowment.

Paul Young
Treasurer, Hertz Foundation
---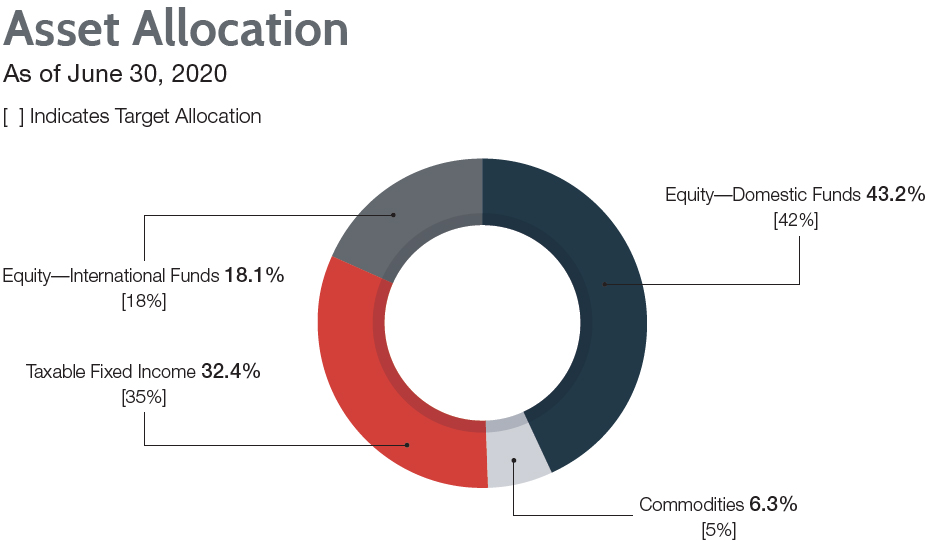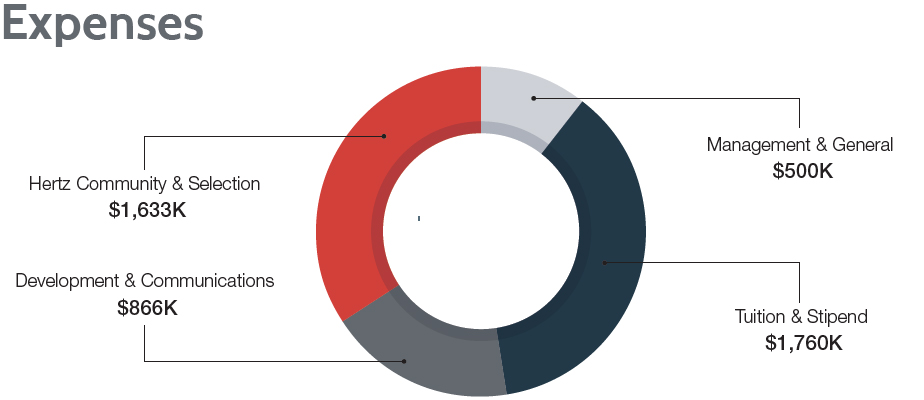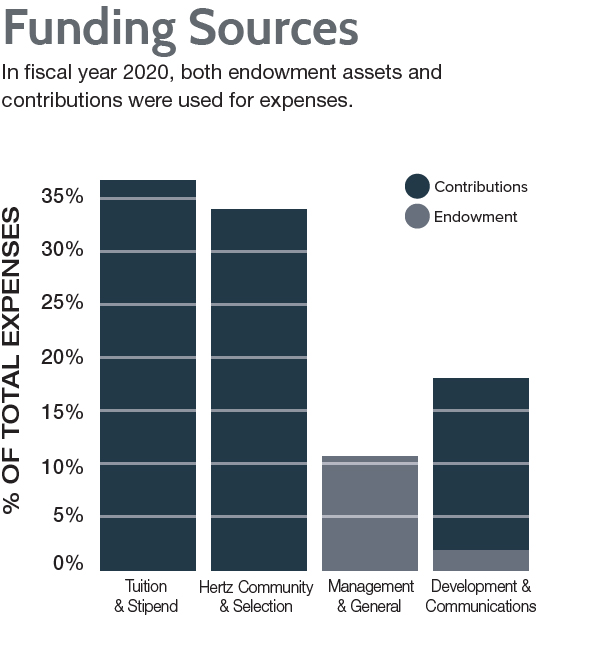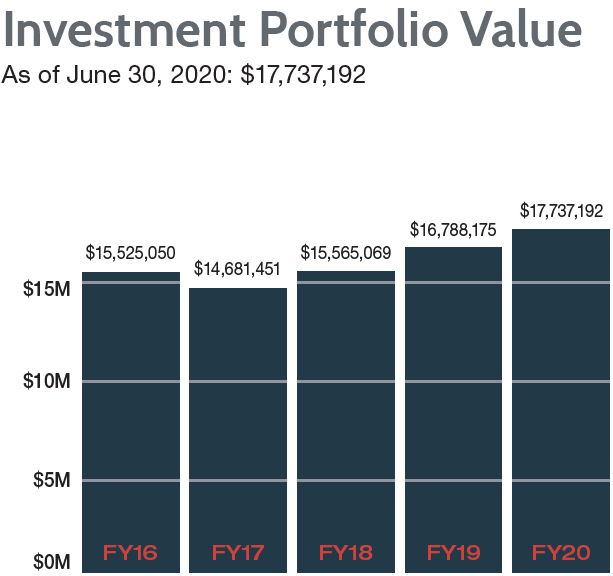 Documents
Tax Information
The Fannie and John Hertz Foundation is a tax-exempt 501(c)(3) not-for-profit organization.
Our tax ID is 36-2411723.