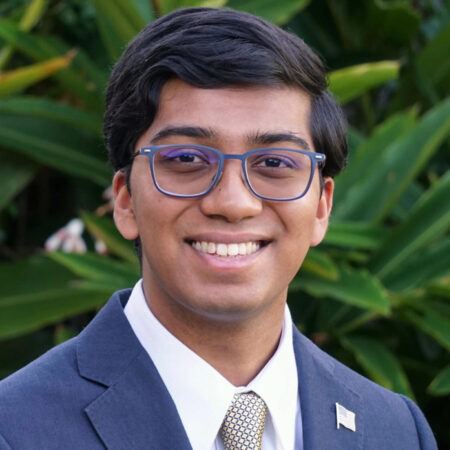 Syamantak Payra is a scientist and engineer who is passionate about creating new biomedical devices that can help provide physiological assistance, facilitate the diagnosis of illnesses and accelerate rehabilitation of the human body.
A doctoral student at Stanford University, Payra uses his expertise in electrical engineering and computer science to develop new technologies with human impact. He has created digital fibers for electronic garments that can assist in diagnosing illnesses, and he contributed to next-generation space suit prototypes that could better protect astronauts on spacewalks. Payra's research spans rehabilitation robotics, cancer diagnostics and biomedical sensor systems, and has resulted in publications across multiple domains, with additional interdisciplinary work in fields like materials science, microbiology and public policy. He received his bachelor's degree in electrical engineering and computer science, with minors in public policy and entrepreneurship, from the Massachusetts Institute of Technology.
Born in Columbus, Ohio, Payra grew up in Friendswood, Texas, minutes away from NASA's Johnson Space Center. Motivated by health challenges faced by family and loved ones—including watching his grandmother's struggles with asthma/chronic obstructive pulmonary disease and losing his baby brother to brain cancer — Payra dedicated himself to applying engineering to solve unmet health care needs. When he was 14, a conversation with a teacher paralyzed from post-polio syndrome inspired him to design a robotic leg brace that won the Intel Foundation Young Scientist Award at the Intel International Science and Engineering Fair—a recognition given to the top two projects in the entire competition. Payra earned ninth place at the Regeneron Science Talent Search, and he was inducted into the National Gallery of America's Young Inventors.
A fan of vehicles and linguistics, Payra is also a violinist and published poet. He enjoys music and nature photography as creative outlets.
"I want to create technologies that can help assess, address and overcome physiological limitations and ultimately improve quality of life."
Graduate Studies
Stanford University
Undergraduate Studies
Massachusetts Institute of Technology
Related News
Dec 13, 2022
As John and Fannie Hertz demonstrated decades ago, investment in science and technology can lead to life-changing innovation and enduring impact. We are committed to building on their legacy and invite you to join us. Let's think bigger togethe
May 24, 2022
From defending the nation's digital infrastructure against cyberthreats to developing electronics that can reduce our dependence on fossil fuels, the 2022 Hertz Fellows will address the most pressing challenges facing our nation.