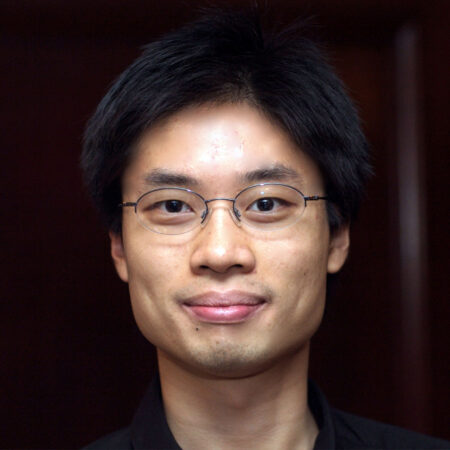 Po-Shen Loh is a social entrepreneur, working across the full spectrum of mathematics and education, all around the world.
He is the founder of the free personalized learning platform expii.com, a social enterprise supported by his series of online math courses that reinvent the middle school math curriculum with a focus on creative thinking. He is also a math professor at Carnegie Mellon University and the national coach of the USA International Mathematical Olympiad team. Upon the outbreak of COVID-19, he turned his mathematical attention to create NOVID, the world's first app to introduce the fundamentally different network radar paradigm for pandemic control.
As an academic, Po-Shen has numerous distinctions, from an International Mathematical Olympiad silver medal to the Presidential Early Career Award for Scientists and Engineers. His scientific research considers a variety of questions that lie at the intersection of combinatorics (the study of discrete systems), probability theory, and computer science. As an educator, he led Carnegie Mellon University's math team to its first-ever #1 rank among all North American universities, and led the USA Math Olympiad team to its first-ever back-to-back #1-rank victories in 2015 and 2016. His research and educational outreach takes him to cities across the world, reaching over 10,000 people each year through public lectures and events, and he has featured in or co-created videos totaling over 5 million YouTube views.
Po-Shen received his undergraduate degree in mathematics from Caltech in 2004, graduating first in his class. He received a master's degree in mathematics from the University of Cambridge in 2005, where he was supported by a Winston Churchill Foundation Scholarship. He continued his studies at Princeton, supported by a Hertz Foundation Fellowship and a National Science Foundation Graduate Research Fellowship, where he completed his Ph.D. in mathematics at the end of 2009. He has been on the faculty at Carnegie Mellon University ever since.
"The independence granted by the Hertz Fellowship was essential for my graduate study. It enabled me to work with a spectacular advisor even as he moved between universities. The fellowship transcends boundaries and frees individuals to explore and create on a global stage."
Hertz Foundation Role
Fellowships and Programs Council
Graduate Studies
Princeton University
Mathematics
Results in Extremal and Probabilistic Combinatorics
Undergraduate Studies
California Institute of Technology
Awards
2015, CAREER Award, National Science Foundation