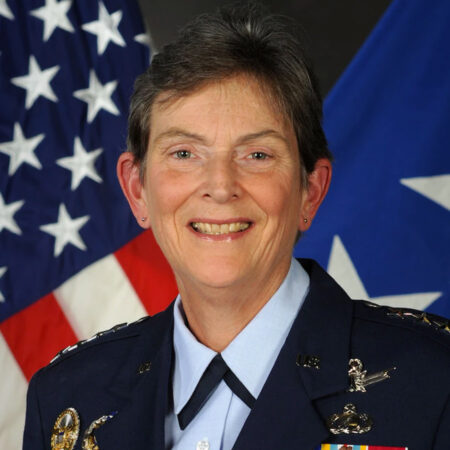 General Ellen M. Pawlikowski, Retired, served as commander, Air Force Materiel Command, Wright-Patterson Air Force Base, until her retirement in September 2018.
The command employs some 80,000 people and manages $60 billion annually, executing the critical mission of warfighter support through leading-edge science and technology, cradle-to-grave life cycle weapon systems management, world-class developmental test and evaluation, and world-class depot maintenance and supply chain management.
General Pawlikowski entered the Air Force in 1978 through the ROTC program at the New Jersey Institute of Technology. With her Fannie and John Hertz Foundation Fellowship, she then attended the University of California at Berkeley and received a doctorate in chemical engineering in December 1981, entering active duty at McClellan AFB, California, in April 1982.
General Pawlikowski's career has spanned a wide variety of technical management, leadership and staff positions including command at the wing and center levels. She has served as director of the Acquisition Management Office for the assistant to the secretary of defense for atomic energy and as deputy assistant to the secretary of defense for counterproliferation, Office of the Secretary of Defense. Her leadership assignments included program director of the Airborne Laser Program; commander of the Military Satellite Communications Systems Wing; deputy director of the National Reconnaissance Office; commander of the Air Force Research Laboratory; and commander of the Space and Missile Systems Center.
General Pawlikowski is nationally recognized for her leadership in the U.S. science and technology community. She is a fellow of the American Institute of Aeronautics and Astronautics and a member of the National Academy of Engineers.
Graduate Studies
University of California, Berkeley
Chemical Engineering
Vapor-Liquid Equilibria for Volatile, Weak Electrolytes in Aqueous Solutions
Awards
2014, Member, National Academy of Engineering
Related News
Dec 13, 2022
As John and Fannie Hertz demonstrated decades ago, investment in science and technology can lead to life-changing innovation and enduring impact. We are committed to building on their legacy and invite you to join us. Let's think bigger togethe
How Ellen is Making an Impact