Serving the Nation and the Hertz Community
Featuring the work of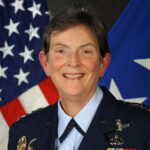 After 40 years in the military, retired Air Force Gen. Ellen Pawlikowski is well acquainted with pressing issues facing the United States.
A chemical engineer who rose to the highest ranks of the Air Force as a four-star general, Pawlikowski supported both peacetime and combat operations around the world. She has addressed issues of national security through science and technology, testing and evaluation, and supply chain management. She has had a front-row seat to the global impact of such issues as climate change.
Catalyzing Talent
Years of interviewing potential Hertz Fellows drives home an important reminder: As a nation, we're capable of overcoming the obstacles ahead.
"I just get overwhelmed with what amazing talent we have out there," Pawlikowski said. "It makes me feel good about this country when I hear about awful issues and then am reminded that we've got some really, really smart people to address them."
Pawlikowski, who received a Hertz Fellowship in 1979, began serving as an interviewer in the mid-1990s. "It was really during that time that I saw the Hertz Foundation as an ecosystem for fellows, where we could engage with one another," Pawlikowski said.
She continued interviewing eight to 10 candidates a year until 2015, when she became a four-star general — the third woman to hold that rank in Air Force history. As commander, Air Force Materiel Command, Wright-Patterson Air Force Base, Ohio, she managed 80,000 employees and $60 billion annually.
Keeping Our Nation Secure
Nationally recognized for her leadership in science and technology, Pawlikowski started out in chemical engineering. Intrigued by the military, she enrolled in the Air Force ROTC when scholarships were awarded only to pilots and limited to men. At the close of the Vietnam War, scholarships in engineering became available, and Pawlikowski committed to a four-year tour — a commitment she then delayed to pursue her Ph.D. at University of California, Berkeley.
Once she began active duty, Pawlikowski discovered her natural leadership ability. "To be an effective leader, I learned it was less important that I initially understood all the technical and scientific points and more important to build rapport with people so that we could work collaboratively," she said.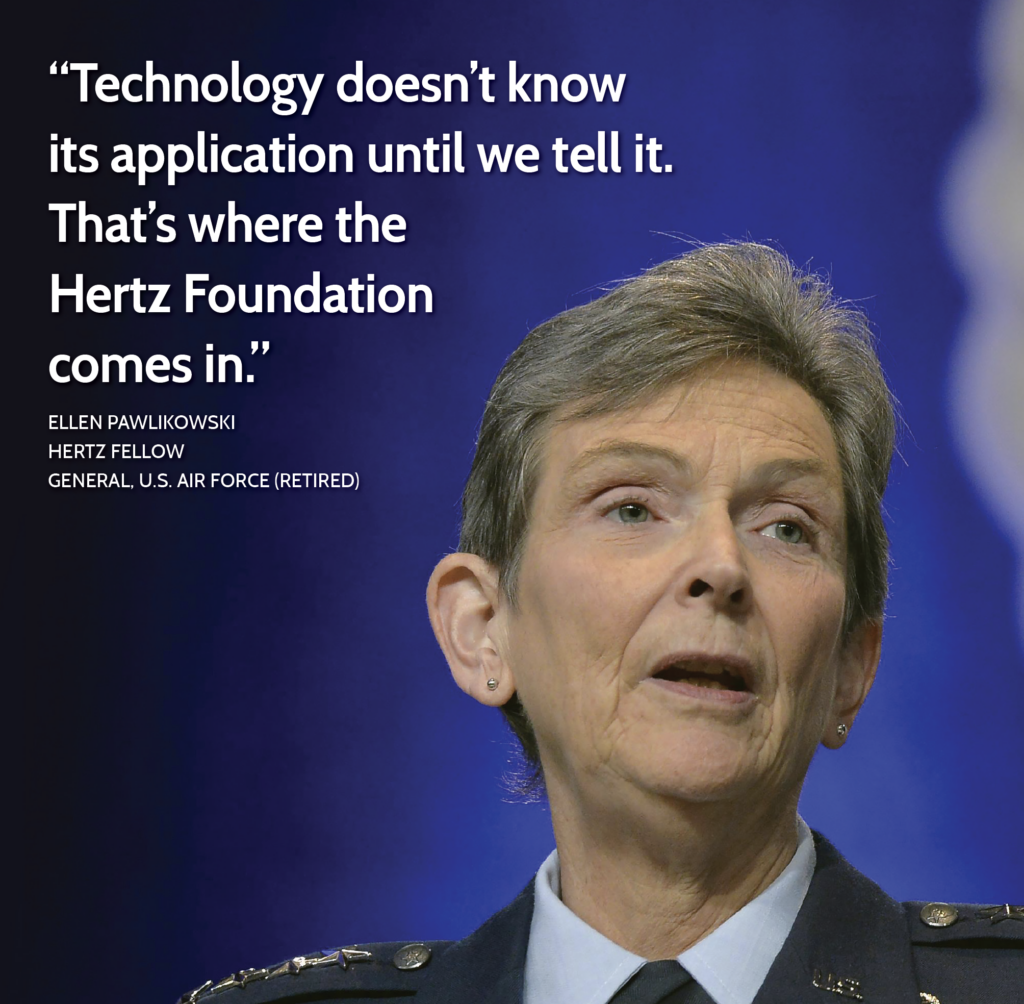 She continued to rise in the ranks and, despite being warned by a woman general that marriage in the military would be difficult and being a mother would be impossible, Pawlikowski wed a fellow airman and had two daughters, and she wore the first version of the Air Force maternity uniform. Her husband ultimately left his military career to teach high school and focus on raising their family.
"It wasn't like I set out to trail blaze. I just set out to accomplish certain things," Pawlikowski said. After retiring from the military in 2018, Pawlikowski returned to interviewing Hertz Fellowship candidates.
"I enjoy the engagement with students. I can't figure out how I ever got one of these fellowships when I look at what some of these young people have accomplished," she said.
Prioritizing Climate Change
One of the issues she hopes to see Hertz Fellows address is climate change.
"At my heart I'm a technologist; I don't care about politics. But we cannot put our borders up and say we're safe here. If I look at it from the military element of national security, it's a threat to the capabilities we have today," she said.
When it comes to national security, the military is just one tool, she added. National security also depends on economic viability, which is heavily impacted by climate events.
"I like to say technology doesn't know its application until we tell it. That's where the Hertz Foundation comes in. Climate change is an unintended consequence of technology development, and we have to focus on fixing those unintended consequences," Pawlikowski said. "All of us Hertz Fellows agreed that we would come to the aid of our country if needed. In my opinion, climate change is a national security issue."
More Impact Stories