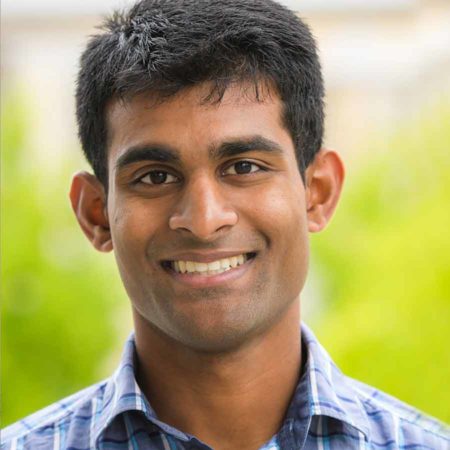 Ashvin Bashyam leads R&D Strategy at Ensoma, a biotechnology company developing genetic medicines for precision engineering of the hematopoietic system.
Ashvin was previously Associate Director within the 4:59 Initiative, the new company creation team at 5AM Ventures, where he built and contributed to strategy and operations for early-stage biotechnologies companies including Ensoma.
Ashvin earned his PhD in Electrical Engineering and Computer Sciences at the Massachusetts Institute of Technology. As part of his graduate work, Ashvin built portable, handheld magnetic resonance sensors for the diagnosis and staging of chronic diseases. Additionally, he developed computational tools to improve drug delivery to the brain via implanted devices. Outside of the lab, Ashvin served as a mentor to students within the MIT Sandbox Innovation Fund Program, led the MIT Biotechnology Group, and grew to enjoy the New England winters with the MIT Outing Club.
In collaboration with Hertz Fellows Aman Sinha and Megan Blewett, Ashvin built a software platform, called Indicator, to better match new scientific advances to addressable diseases in the hopes of serving the life sciences industry. The team was awarded the 2018 Newman Entrepreneurial Initiative Fund Prize to support this work.
Ashvin studied at the University of Texas at Austin as an undergraduate where he earned a bachelor's degree in Biomedical Engineering. During that time, Ashvin worked with Dr. Stanislav Emelianov to improve medical imaging techniques for cancer staging using photoacoustic imaging and plasmonic nanoparticle contrast agents. Ashvin spent his summers working in the biomedical industry which sparked his interest to dedicate his career to building new technologies to improve human health.
Ashvin can also be reached on Twitter, @Ashviin.
Hertz Foundation Role
Fellowships and Programs Council
Graduate Studies
Massachusetts Institute of Technology
Electrical Engineering,
Computer Science
Undergraduate Studies
University of Texas
Awards
2018, Newman Entrepreneurial Initiative Fund, Fannie & John Hertz Foundation
Related News
Apr 26, 2020
Hertz Fellow Ashvin Bashyam, along with researchers at MIT and Massachusetts General Hospital, developed miniaturized technology that can quickly and accurately measure hydration.
Sep 28, 2018
In 2018, one of the four ventures awarded funding by the prize was Indicator, led by Hertz Fellows Megan Blewett, Ashvin Bashyam, and Aman Sinha, and their teammates Justin Norden and John Cannon.