Honoring the Life of Harold Newman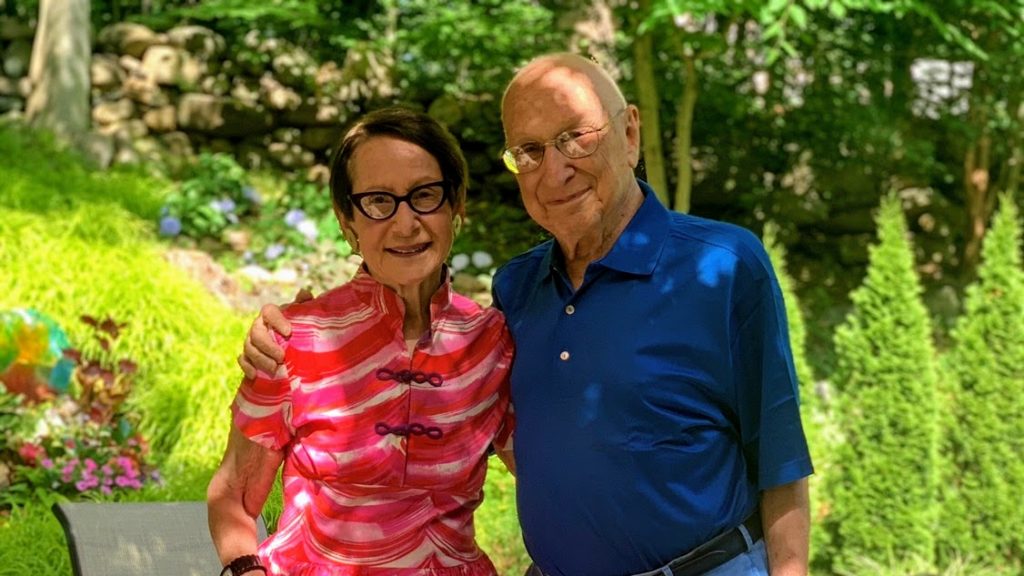 Harold Newman was not a scientist, but he thought like one.
The Honorary Hertz Fellow possessed an insatiable curiosity and embraced unconventional thought. He was a risk-taker who sought out innovative research and creative problem solving, encouraging the entrepreneurial endeavors of Hertz Fellows with financial backing, business advice, and access to his extensive network. He was a dedicated Hertz Foundation board member and donor for 30 years, contributing ideas and conceiving opportunities in conversations always laced with laughter.
When Newman passed away on September 23, 2021, at the age of 90, Hertz Fellows remembered him as a generous supporter, an inspiration, and a treasured friend.
"It's hard to imagine the foundation's success without Harold's vision," said Robbee Baker Kosak, president of the Hertz Foundation. "Harold guided the foundation and fellows in ways that have changed science—and people—for the better."
David Galas, a Hertz Fellow and chairman of the Hertz Foundation board of directors, met Newman when he joined the board.
"Harold went out of his way to help and encourage Hertz Fellows, and I soon fell under the spell of his warm friendship and marvelous sense of humor," said Galas, who is principal scientist for the Pacific Northwest Research Institute. Serving on the board together for 20 years, the two built a friendship around their shared enthusiasm for fueling the future of the Hertz Foundation.
"I always look to the future. My basis for supporting the Hertz Foundation has been to match the challenge of change."
Newman and his wife, Ruth, who established a fund in 2012 to support Hertz Fellows' entrepreneurial projects, in 2020 renamed it the Harold Newman and David Galas Entrepreneurial Initiative in honor of Galas's many contributions. Their entrepreneurial initiative provides investments up to $25,000 for the most innovative projects proposed by Hertz Fellows.
With support from Newman's initiative, Hertz Fellows John Frank, Max Kleiman-Weiner, and Dan Roberts built the software company, Diffeo, which was later acquired by Salesforce.
"Harold had a contagious grin, and I can still see the twinkle in his eye when we first showed him our startup Diffeo. His backing helped catapult us on multiple levels. Beyond immediate progress on the business, he cared about how creative new approaches can improve the world," said Frank, the vice president of collaborative artificial intelligence at Salesforce.
In addition, Newman and his wife, Ruth, funded four fellowships and the Peter Strauss Award, which recognizes early-career fellows who have made significant entrepreneurial achievements and provides a $5,000 stipend. To date, Newman's fellowships have supported seven Hertz Fellows. Five other fellows have been recognized with the Peter Strauss Award, including Chris Loose, chief scientific officer and cofounder of Frequency Therapeutics.
"What has kept me at the Hertz Foundation are the people— because they are brilliant; because I've listened to fellows tell me about things that I never knew existed before," he said.
Newman was also an early investor in and advisor to the companies of several Hertz Fellows, including those founded by Loose and by Christian Wentz, chief executive officer at Gradient Technologies. Inspired by Newman's generosity, Loose and Wentz pooled their resources to fund the Harold Newman Innovation Fellowship.
"Gradient is a fundamentally different company because of Harold's involvement, both as an investor and as an advisor," Wentz said.
"As with many others he touched, I have been very grateful for his friendship and support," Loose said. "Harold had a deeply genuine and selfless joy in helping others be successful."
To Newman, supporting young scientists was a reciprocal relationship. "What has kept me at the Hertz Foundation are the people—because they are brilliant; because I've listened to fellows tell me about things that I never knew existed before," Newman said in a 2020 interview with the Hertz Foundation.
He also believed in looking ahead. "I always look to the future," he said in 2020. "My basis for supporting the Hertz Foundation has been to match the challenge of change."
Newman was a man of vision, said Hertz Fellow Dick Miles, a member of the Hertz Foundation board of directors and a university distinguished professor at Texas A&M. "He understood that individuals change the world. In many ways, Harold was one of those individuals. We are fortunate to have his daughter Carla Newman, also an entrepreneur and investor, on the Hertz Foundation board carrying on his vision and commitment."
---
Reflections on Harold's Life
David Galas
Richard Miles
Jay Davis