Innovation Hour
Driving Rapid Decarbonization
February 17, 2021
---
\At the February 2021 Innovation Hour, hear from Hertz Fellow Bill Weihl on the science behind his mission to drive companies toward climate-friendly policies.
After years of leading sustainability efforts for tech giants Google and Facebook, Bill Weihl is on a mission to mobilize the voice of the workforce to urge companies to go "all in" on climate, both in business practices and policy advocacy. Hear Bill talk about his passion for sustainability, the science behind combating climate change, and the route to rapid decarbonization.
This Hertz Foundation Innovation Hour will take place live on Wednesday, February 17, 2021, from 12 to 1 p.m. Pacfic, using the Zoom video conference platform. You can attend on a desktop, mobile device, or by phone. Please register using the form below, and we'll email you the Zoom meeting information.
About the Speaker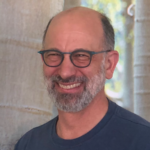 Bill Weihl is the founder and executive director of ClimateVoice, a nonprofit initiative mobilizing the workforce to encourage companies to go "all in" on climate. Bill founded ClimateVoice in February 2020 to address a key missing gap in addressing climate change: the lack of robust business support for public policy that can drive rapid decarbonization. From 2012 to 2018, Bill was director of sustainability at Facebook, where he helped launch the Renewable Energy Buyers Alliance. He previously held the title of Green Energy Czar at Google, where his team pioneered the company's work to buy clean energy for its data centers and helped found the Climate Savers Computing Initiative with Intel and the World Wildlife Fund.