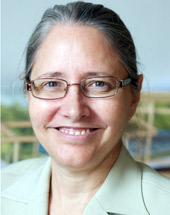 Professor Kim Roddis is tenured in The George Washington (GW) University's Department of Civil and Environmental Engineering. She is immediate past chair of that department. A registered professional engineer, Professor Roddis has experience in heavy industrial and general commercial building design, as well as in bridge design.
Professor Roddis is a fellow of the American Society of Civil Engineers and currently serves on the Committee on Research for the American Institute of Steel Construction. She is a structural engineer with varied teaching and research interests, which include: design, fabrication, and construction processes; structural applications of artificial intelligence and computer-aided design; web-enhanced teaching; fatigue and fracture in bridges; frame stability; and seismic steel connections. She is recognized nationally as an expert in distortion-induced fatigue of steel highway bridges and internationally as an expert on the application of artificial intelligence and advanced computing methods to civil engineering problem solving. Her teaching directly links practice to theory.
She received the 2012 GW School of Engineering and Applied Science Outstanding Teacher Award for her teaching approach emphasizing student centered, active, and problem/project based learning. As a woman in structural engineering, Professor Roddis has served as a role model and mentor throughout her career. She was the first woman ever to earn tenure at KU's School of Engineering, as well as the first woman to earn the rank of full professor on KU's engineering faculty. Professor Roddis earned each of her academic degrees (BS, MS, and PhD) from the Massachusetts Institute of Technology (MIT), where she was a Fannie and John Hertz Fellow.
Graduate Studies
Massachusetts Institute of Technology
Civil Engineering
Heuristic, Qualitataive, and Quantitative Reasoning About Steel Bridge Fatigue and Fracture