Sarah Hooper is an electrical engineering PhD student at Stanford University.
Sarah is driven to improve health outcomes through technological innovation. She helped create multiple new medical devices during her undergraduate career at Rice University, where she earned her B.S. in electrical engineering and a minor in global health technologies.
Through developing and implementing different medical devices, she saw the incredible power of technology to transform patient care. In particular, she saw the potential for accessible medical devices to drastically improve health outcomes in resource-limited settings during an internship in Malawi, where she worked to create low-cost devices to combat neonatal hypothermia.
In addition to her work in global health, Sarah became interested in how machine learning could be applied to benefit healthcare through her research using data science to create a seizure prediction system for patients with epilepsy. She is excited by the many opportunities she sees to use machine learning and signal processing to improve domestic and global health outcomes.
At Stanford, Sarah will continue to pursue research aimed at improving patient care. She will focus on developing new medical imaging devices and associated data-driven computational tools to better diagnose and treat patients. After earning her Ph.D., Sarah plans on devoting her career to innovating technical solutions to reduce the global burden of noncommunicable disease.
Outside of the lab, Sarah enjoys traveling, drawing, and exploring around her beautiful new home in Northern California. She is originally from Austin, Texas.
Graduate Studies
Stanford University
Undergraduate Studies
Rice University
Related News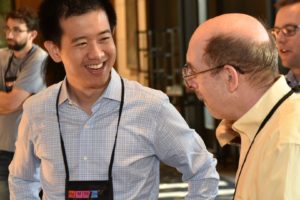 December 16, 2021
The Hertz Foundation's mentoring program brings mid-career and senior leaders in the sciences together with in-school Hertz Fellows for regular online conversations about careers.
July 9, 2018
Seven Hertz Fellows will Work at the Bill & Melinda Gates Foundation as Summer Interns.
March 26, 2018
The 2018 Class of the Most Selective Fellowship Program in the Country Includes the Highest Proportion of Women of Any Class in the Foundation's 60-Year History.