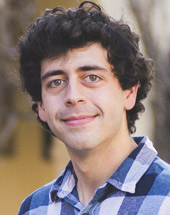 Motivated by a desire to understand and prevent the catastrophic near-term impacts of modern carbon emissions, Preston Cosslett Kemeny studies the coevolution of life and climate throughout Earth's history.
Preston's research measuring the isotope ratios preserved in natural archives has the potential to generate novel theories of climate change that will improve model predictions. He is particularly interested in the rise of atmospheric oxygen, oscillations between glacial and interglacial climates, and the physical chemistry underlying isotopic variation. Preston intends to lead a stable and radiogenic isotope laboratory in order to better interpret the planet's biogeochemical biography.
Preston is currently pursuing a PhD in geochemistry at the California Institute of Technology. He graduated summa cum laude from Princeton University in June 2015 with an AB in geosciences and certificates in environmental studies and planets & life (astrobiology). Preston has traveled widely, having studied hydrology in Kenya, renewable energy in Sierra Leone, and connections between volcanism and mass extinction in India. He has also completed two field campaigns in Antarctica collecting seawater and drilling ice cores for geochemical analysis. His research using nitrogen isotope ratios to understand the onset of ice ages has been published and presented internationally.
One of Preston's favorite accomplishments is the ongoing success of "Lobster Club," a no-audition improvisational comedy troupe he cofounded as a college freshman. He believes that reconstructing paleoclimate, like unscripted theater, is an intensely collaborative endeavor in which forming a credible narrative requires detailed observations and coherent storytelling. Performing improvisational comedy has fueled Preston's scientific creativity by teaching him that discovery, like humor, only arises through the fearless exploration of new ideas.
Outside the lab, Preston enjoys participating in science outreach with local schools, backpacking, and traveling. He attributes his passion for geoscience and environmental stewardship to growing up in the woods of Garrison, New York.
Graduate Studies
California Institute of Technology