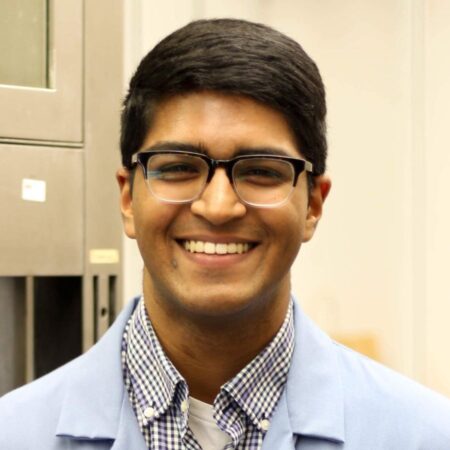 Philip Kocheril seeks to use advanced spectroscopic techniques to characterize the photophysical dynamics of biochemical systems. Kocheril is a doctoral student in chemistry at the California Institute of Technology.
Kocheril's twin interests in chemistry and jazz developed early and continued into his undergraduate studies at the University of Illinois at Urbana-Champaign (UIUC). Kocheril started doing research as a high school student, and continued during his undergraduate studies, working in the labs of Professor Benjamin McCall and Professor Steven Zimmerman on infrared spectroscopy, organic synthesis and computational modeling projects. As an undergraduate student, Kocheril was active in the UIUC jazz program, holding the solo trumpet chair in the UIUC Concert Jazz Band, and being the only non-music major in the trumpet studio of Professor Tito Carrillo. An avid composer with diverse musical influences, Kocheril has written over 50 original compositions to date, one of which, "Up the Down Staircase," was featured on Carrillo's new album, "Urbanessence." Kocheril was a Barry M. Goldwater Scholar, and was the first to receive the Astronaut Scholarship at UIUC.
After graduating from UIUC in 2021 with a bachelor's in chemistry and minor in music, Kocheril developed biosensor assays and instrumentation, and studied lipoprotein biophysics as a post-bachelor's student in the Physical Chemistry and Applied Spectroscopy Group at Los Alamos National Laboratory. He is also a National Science Foundation Graduate Research Fellow.
Outside of research and coursework, Kocheril enjoys reading, cooking and playing games with friends.
Graduate Studies
California Institute of Technology
Undergraduate Studies
University of Illinois at Urbana-Champaign