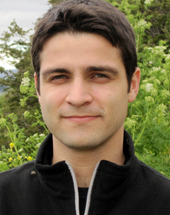 Mikhail G. Shapiro, PhD, is an assistant professor of chemical engineering and a Heritage Principal Investigator at the California Institute of Technology. Previously, he was a Miller Research Fellow in Bioengineering and Molecular & Cell Biology at the University of California at Berkeley. His research is focused on the development of biomolecular technologies for non-invasive imaging and control of cellular function in the body using ultrasound and magnetic fields. Dr. Shapiro received his PhD in biological engineering as a Hertz and Soros fellow at the Massachusetts Institute of Technology with co-advisers Robert Langer and Alan Jasanoff and his BSc in neuroscience from Brown University. He conducted post-doctoral research in biophysics at the University of Chicago with Francisco Bezanilla.
Among his research accomplishments, Dr. Shapiro developed the first genetically engineered functional sensors for magnetic resonance imaging of the brain, discovered fundamental mechanisms by which infrared light stimulates neurons, and introduced the first genetically encoded molecular imaging agents for ultrasound. In addition to his research, Dr. Shapiro has been a co-founder of several life science start-up companies and served as a venture principal at Third Rock Ventures.
Dr. Shapiro was awarded a Hertz Foundation Thesis prize in 2009. He has received the Burroughs Wellcome Career Award at the Scientific Interface, the DARPA Young Faculty Award and Director's Fellowship, the Pew Scholars Award, the Sontag Foundation Distinguished Scientist Award, the Packard Fellowship for Science and Engineering and the Technology Review TR35 award for top innovators under age 35.
More information about the Shapiro Lab can be found at shapirolab.caltech.edu.
Graduate Studies
Massachusetts Institute of Technology
Bioengineering
Genetically Engineered Sensors for Non-Invasive Molecular Imaging using MRI
Awards
2010, TR35, MIT Technology Review; 2016, Packard Fellow, David & Lucile Packard Foundation; 2009, Hertz Thesis Prize, Fannie & John Hertz Foundation; 2004, Soros Fellow, Paul and Daisy Soros Fellowship for New Americans; 2019, Vilcek Prize for Creative Promise in Biomedical Science, Vilcek Foundation