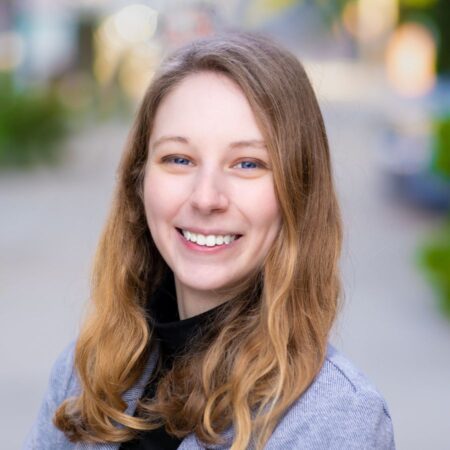 Madeleine Urbanek is interested in exploring the intersections between neurodevelopment, aging and epigenetics to uncover cellular interactions that drive neurological disease.
A doctoral student in biomedical sciences at the University of California, San Francisco (UCSF), she is particularly curious about how changes at the cellular level translate to system-wide effects across neuronal networks.
Urbanek received her bachelor's degree in neuroscience from Creighton University in 2022. While at Creighton, she worked in Professor Jian Zuo's lab to study mechanisms underpinning auditory disease through multifaceted approaches. In particular, she used computational approaches to independently screen for point mutations associated with the development of tinnitus; identify novel compounds that protect against chemotherapy-induced hearing loss; and identify gradients of gene expression in the developing cochlea. She plans to continue pursuing questions at the intersection of development and disease within the brain throughout her doctoral research.
Urbanek grew up in Roland, Iowa, a small farming community in the center of the Midwest. Having witnessed firsthand the effect scientific censorship and misinformation can have, Urbanek strives to make science accessible to curious minds through communication and advocacy efforts. During her time at Creighton, she served as the president of the Nu Rho Psi Honor Society and organized outreach events to connect Creighton's neuroscience students with the broader Omaha community. Most memorably, she ran the university's first annual Brain Bee, giving students in the Omaha Public Schools district the opportunity to engage firsthand with a variety of neuroscience research questions and techniques. Seeing a need for professional support for women in science, technology, engineering and math (STEM) on campus, she also founded Creighton's Society for Women in STEM and served as president during its first year. Now in San Francisco, she continues to be involved in these types of outreach activities in UCSF's Science and Health Education Partnership program, where she works with public schools across the San Francisco system to support students of all ages in their scientific pursuits.
Graduate Studies
University of California, San Francisco
Undergraduate Studies
Creighton University