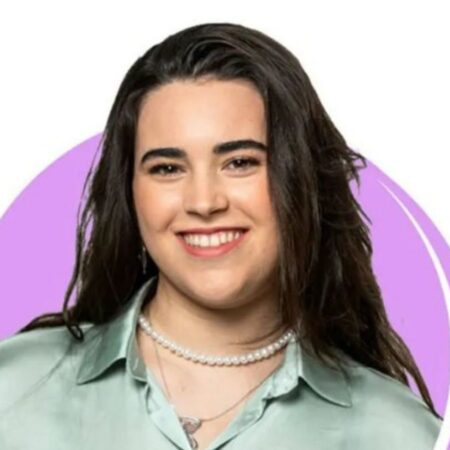 Liyam Chitayat aims to develop fundamental technologies and biological interfaces to enable human enhancement on a physiological and molecular level.
She will begin a doctoral program in computational systems biology at Massachusetts Institute of Technology (MIT) in fall 2023.
Chitayat was born in New York and grew up in Israel. At age 12 she began her double major undergraduate programs in chemistry and biology at Tel Aviv University. She graduated summa cum laude in both majors and ranked among the top 10 female students in the field of exact sciences. Her undergraduate research on phage display systems granted her the prestigious Baruch Zinger Scholarship, which is given to five students every year for pioneering research in the field of chemistry and chemical engineering.
She is currently completing her master's degree in biomedical engineering while working as a machine learning researcher at Western Digital Corporations. Throughout her master's program, she has aimed to develop novel computational methods for microbiome engineering. She published two first author articles on her work and presented in both national and international conferences. She was selected to serve in the bioengineering department at the Israeli Ministry of Defense, Directorate of Defense Research and Innovation, leading the computational biology efforts and multiple Defense Advanced Research Agency (DARPA) projects. In 2022, she was awarded the Accelerator prize for defense innovation from the Israeli Ministry of Defense (IMOD), Directorate of Defense Research & Development (DDR&D).
Chitayat is passionate about promoting biotechnological innovation and is the youngest person to ever be selected for TheMarker's national 40 under 40 list at the age of 19. She researched therapeutic ribozymes in the private research institute Augmanity Nano and won the BioMedEx-AION Labs competition for pharmaceutical innovation in 2022. She is the founder and co-managing director of the Israeli Chapter of the global biotech nonprofit, Nucleate, and she is a member of the Ascola Young Scientists and 8400 The Health Network.
Graduate Studies
Massachusetts Institute of Technology
Computational Systems Biology
Undergraduate Studies
Tel Aviv University