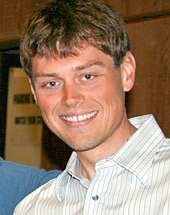 John is a technical Director at Dow MobilityScience.
He is part of a team of 85+ engineers, scientists, and technicians focused on innovation and collaboration to serve the material needs of the mobility and transportation industry, including thermally and electrically conductive silicones for thermal and EMI management of electronic components and assemblies; silicone conformal coatings, encapsulants, gels, and pottants to enable reliable electronics; adhesives for assembly; coatings for airbags, synthetic leather, and aerospace applications; silicone foams; optically clear silicones for injection molding and encapsulation; and high consistency (HCR) and liquid (LSR) silicone rubbers for a range of applications.
John's thesis and research focused on understanding proton transport in organically functionalized zeolite-like materials and divalent ion transport in porous zincosilicates under the direction of Mark E. Davis. Prior to his doctoral work at Caltech, John worked to develop structure/property relationships in organic semiconductors through the fabrication of thin film devices under the direction of C. Daniel Frisbie at the University of Minnesota. His research interests include catalysis, electronic materials, solar energy, photocatalysis, device physics, and economics.
For recreation, John enjoys road cycling and mountain biking, downhill and cross-country skiing, fishing, competitive shooting, and flying. He recently received his instrument flight rating and is beginning to work towards his commercial and instructor ratings.
Graduate Studies
California Institute of Technology
Chemical Engineering
Proton and Ion Conductivity in Microporous Materials
Undergraduate Studies
University of Minnesota