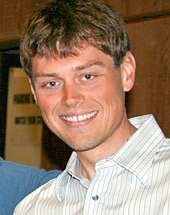 John's thesis and research focused on understanding proton transport in organically functionalized zeolite-like materials and divalent ion transport in porous zincosilicates under the direction of Mark E. Davis. Prior to his doctoral work at Caltech, John worked to develop structure/property relationships in organic semiconductors through the fabrication of thin film devices under the direction of C. Daniel Frisbie at the University of Minnesota. His research interests include catalysis, electronic materials, solar energy, photocatalysis, device physics, and economics.
Currently John is on the Research Assignments Program at The Dow Chemical Company. He has worked on epoxidation catalysts in Core R&D, reverse osmosis membranes in Water and Process Solutions, and is currently working in the Electronic Materials group.
For recreation, John enjoys road cycling and mountain biking, downhill and cross-country skiing, fishing, competitive shooting, and flying. He recently received his instrument flight rating and is beginning to work towards his commercial and instructor ratings.
Graduate Studies
California Institute of Technology
Chemical Engineering
Proton and Ion Conductivity in Microporous Materials