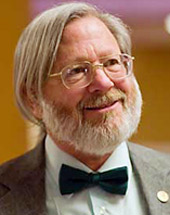 Paul Shuch, founder and chief engineer of Microcomm Consulting in Cogan Station, Pennsylvania, is generally credited with the design of the world's first commercial home satellite TV receiver. Paul brings to his company nearly half a century of experience in electronic communications. A distinguished engineering professor, he used his Hertz Fellowship to earn a PhD in engineering from the University of California, Berkeley, after having served in the U.S. Air Force as a telecommunications systems controller during the Vietnam conflict. He was technical director and chair of the board of Project OSCAR Inc., builders of the first non-government communications satellites. He was the founding executive director of the international non-profit SETI League for two decades, and continues in that capacity on an emeritus basis.
While an engineer with such major aerospace corporations as Itek and Lockheed, Paul was responsible for the design of electronic countermeasures, satellite remote sensing, and submarine launched ballistic missile telemetry systems. He holds patents in the areas of airborne radar and phased array antennas, taught electronics and aeronautics at various colleges and universities for a quarter century, and spent nearly a dozen years as executive director of The SETI League, Inc., an international educational and scientific nonprofit corporation.
Paul is the author of more than 600 publications, of which roughly 100 deal with antennas, microwave communications, microstrip circuitry, and related technologies. He is a member of the International Academy of Astronautics, the Society of Wild Weasels, and the AACS Alumni Association; a fellow of the British Interplanetary Society, the European Radio Astronomy Club, and the Radio Club of America; and serves on numerous international committees and boards.
Paul is a licensed commercial pilot, instrument flight instructor, and volunteer FAA Safety Team lead representatives. Upon his retirement from academia, he founded AvSport of Lock Haven, a small flight school on the Piper Memorial Airport, Lock Haven, Pennsylvania, where he serves as chief flight instructor and director of maintenance.
Graduate Studies
University of California, Berkeley
Transportation Engineering
Near Midair Collisions as an Indicator of General Aviation Collision Risk
Undergraduate Studies
San Jose State University
Awards
1990, Hertz Thesis Prize, Fannie & John Hertz Foundation