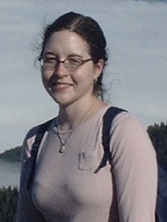 Gwen is an MD/PhD student in the Baylor College of Medicine Medical Scientist Training Program. Her graduate work is at Rice University in the Musculoskeletal Bioengineering laboratory of Kyriacos Athanasiou. Gwen's work has focused on using diverse cell sources, including primary cells and embryonic stem cells, to create mechanically functional replacement tissues for the knee joint.
Gwen graduated summa cum laude from Rice University with a degree in chemistry. Immediately after graduating, she was a Fulbright fellow in Freiburg, Germany from 2000-2001 and studied tissue engineering. At Baylor Gwen has been involved in Students Teaching AIDS to Students (STATs), the Texas Medical Association, and the Baylor Homeless Health Care Clinic. More recently, she won a Student Leadership in Community Service Grant, wherein she is developing organ donation education programs. To relax, Gwen enjoys biking, running, hiking, and visiting art museums.
In the future, Gwen plans to do a residency in surgery and continue research in tissue engineering.
Graduate Studies
Rice University
Bioengineering
Self Assembly of Fibrochondrocytes and Human Embryonic Stem Cells for Tissue Engineering of Fibrocartilage
Awards
2001, Fulbright Scholar, Fulbright U.S. Student Program