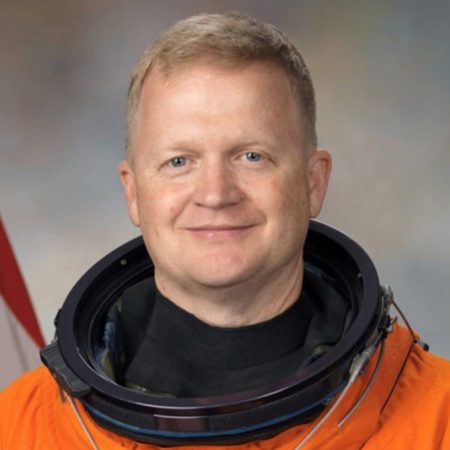 Colonel Eric Boe, Hertz Fellow and NASA astronaut, has truly taken the spirit of the Fannie and John Hertz Fellowship out of this world.
Boe was selected as an astronaut by NASA in 2000. The veteran of two spaceflights was born in Miami, Florida but grew up in Atlanta, Georgia. In 1987, Boe was commissioned from the U.S. Air Force Academy. Before his military retirement in 2012, he logged more than 6000 flight hours in over 50 aircraft. Boe served as pilot for STS-126 Endeavour, a mission that expanded the living quarters of the International Space Station to eventually house six crew members by delivering a new bathroom, kitchen, two sleeping quarters, an exercise machine, and a water recycling system.He also served as pilot for STS-133 Discovery. This mission delivered the Permanent Multipurpose Module and the fourth Express Logistics Carrier to the International Space Station.
Boe is currently the assistant to the chief for commercial crew in the astronaut office at NASA's Johnson Space Center. In this role, he works closely with NASA's commercial partners, Boeing and SpaceX, and the crews assigned to fly with those companies, to develop and test the new spacecraft they are building to transport astronauts to and from the International Space Station.
In 2015, Boe was one of four astronauts assigned to NASA's "Commercial Crew Cadre," which worked on both the Boeing CST-100 Starliner and the SpaceX Crew Dragon.
He graduated from the United States Air Force Academy with a bachelor's degree in astronautical engineering and earned a master's degree in electrical engineering from the Georgia Institute of Technology.
Graduate Studies
Georgia Institute of Technology
Undergraduate Studies
United States Air Force Academy