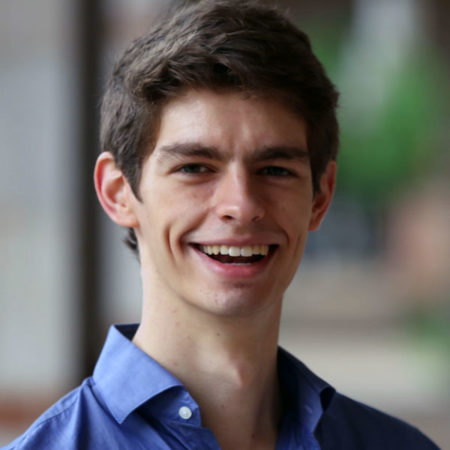 Constantine Tzouanas' long-term goal is to engineer biological systems to address pressing needs, from organ transplants to environmentally responsible chemical production.
A National Science Foundation Graduate Research Fellow in the Harvard-MIT Health Sciences and Technology program, Constantine is pursuing a PhD in medical engineering and medical physics with a concentration in biological engineering.
As a member of Professor Alex Shalek's lab, he researches how the properties and interactions of individual cells produce the emergent phenomena needed for tissue- and organism-level function. He has contributed to and led projects that include technology development of spatial transcriptomics methods and bioinformatics approaches to understand the regulatory mechanisms of SARS-CoV-2 infection.
As an undergraduate at Rice University, he worked in the lab of Professor Jacob Robinson on research ranging from the mechanisms of engineered ion channel gating to circuit neuroscience in the immortal jellyfish Hydra vulgaris. He graduated summa cum laude from Rice in 2019 with a bachelor's degree in bioengineering and a minor in neuroscience, a certificate in engineering leadership, and a distinction in research and creative works.
He was awarded the Goldwater Scholarship, received the Trustee Distinguished Scholarship, and was named Rice University's top engineering senior of the class of 2019.
Outside of research and coursework at MIT and Harvard, Constantine serves as an officer of the MIT Biotech Group and in the Harvard-MIT Health Sciences and Technology Joint Council. In his free time, Constantine enjoys running, ultimate frisbee, and baking.
"My vision also holds promise for addressing pressing needs from organ transplants to environmentally responsible chemical production."
Graduate Studies
Massachusetts Institute of Technology
Undergraduate Studies
Rice University
Awards
2019, Distinction in Research and Creative Works, Rice University
2019, Outstanding Senior, Rice University Department of Bioengineering
2016-2019, Hard Hat Award, Rice University Department of Engineering
2015-2019, President's Honor Roll, Rice University
2018, Outstanding Junior, Rice University Department of Bioengineering
Related News
Dec 16, 2021
The Hertz Foundation's mentoring program brings mid-career and senior leaders in the sciences together with in-school Hertz Fellows for regular online conversations about careers.
May 20, 2020
The Fannie and John Hertz Foundation has announced the 2020 recipients of the Hertz Fellowship. This year's fellowships will fund 16 researchers whose goals range from developing more effective drugs to advancing artificial intelligence to creating a carbon-neutral future.