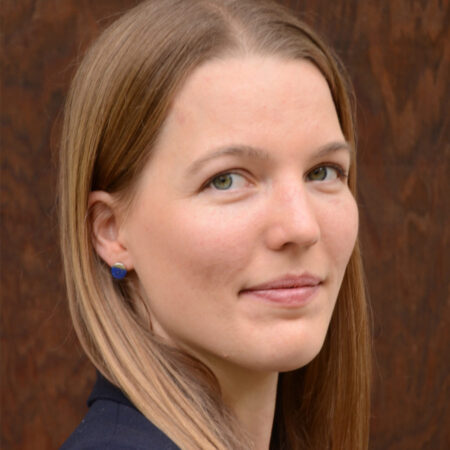 Cheri Ackerman is a co-founder and the CEO of Concerto Biosciences.
Cheri is passionate about studying and harnessing complexity and heterogeneity in biological systems. She founded Concerto Bio to create products that take advantage of the complexity of the microbiome. Using a novel screening platform that Cheri worked on during her postdoc, Concerto Biosciences builds microbial ensembles to treat disease and improve farming.
Prior to founding Concerto Bio, Cheri was an NIH Postdoctoral Fellow with Professor Paul Blainey at the Broad Institute of MIT and Harvard, where she built technologies to partition, recombine, and sort small volumes of liquids and gels in order to make combinatorial experiments high-throughput. She applied these technologies to problems in viral detection and microbial ecology.
Cheri earned her Ph.D. in Chemistry as a Hertz Fellow under the mentorship of Prof. Christopher Chang at the University of California, Berkeley. Her graduate thesis focused on copper metabolism in vertebrates, including the development of mass spectrometry imaging methods to map copper localization in tissue and the discovery of copper-accumulating megamitochondria in zebrafish retina. Her undergraduate research included galectin nuclear-cytoplasmic transport with Professor Eric Arnoys at Calvin College (Grand Rapids, MI) and proteins governing mitochondrial fusion-fission with Dr. Jeff MacKeigan at the Van Andel Research Institute (Grand Rapids, MI). She holds a B.S. in Biochemistry and Spanish from Calvin College.
In her spare time, Cheri spends as much time outdoors as possible and is always game for a hike or some pickup volleyball. She also loves to travel.
(Photo: William S. Dixon)
Graduate Studies
University of California, Berkeley
Chemical Biology
Detecting, Measuring, and Manipulating Copper in Biological Systems
Undergraduate Studies
Calvin College
Awards
2020, Harold Newman and David Galas Entrepreneurial Initiative, Fannie & John Hertz Foundation