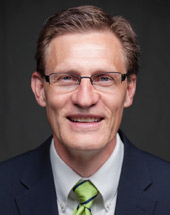 Adam T. Woolley, PhD, is a professor in the Department of Chemistry and Biochemistry at Brigham Young University (BYU) in Provo, Utah. In 1992, he graduated summa cum laude with a BS in chemistry from BYU. In 1997, as a Hertz Fellow, he received his PhD in chemistry from the University of California, Berkeley under the direction of Professor Richard Mathies. His doctoral research involved the development of micromachined electrophoretic systems for rapid DNA analysis, and his work was recognized with the 1998 Fannie and John Hertz Foundation Thesis Prize. Woolley was a Cancer Research Fund Runyon-Winchell Foundation Postdoctoral Fellow in the group of Professor Charles Lieber at Harvard University from 1998-2000. His postdoctoral work focused on implementing carbon nanotube probes for high-resolution biological scanning probe microscopy. After postdoctoral studies, Woolley joined the Department of Chemistry and Biochemistry at BYU. He was promoted to associate professor in 2006 and to professor in 2010.
The overarching theme of Professor Woolley's research is the interrelationship between biological molecules and miniaturization. His current research is concentrated in three general areas: the creation of novel and sophisticated integrated microfluidic systems for enhanced biomarker quantitation, the design of simple, miniaturized biomolecular assays, and biotemplated nanofabrication. His group is combining affinity purification and solid-phase enrichment with electrophoretic separation in miniaturized devices to enable biomarker quantitation. Moreover, he is working to develop easy-to-use micro- and nano-fluidic chips for molecular analysis. Finally, his group is developing ways to fold DNA into controlled nanoscale designs and convert these structures into functional nanomaterial systems through self-assembly and selective metallization.
Professor Woolley is author or co-author of more than 100 peer-reviewed papers, has given over 150 scientific presentations and has received 10 patents related to his work. He has received several recognitions, including the American Chemical Society Division of Analytical Chemistry Award for Young Investigators in Separation Science (2007), Presidential Early Career Award for Scientists and Engineers (2007), BYU Young Scholar Award (2008), BYU Reed M. Izatt and James J. Christensen Faculty Excellence in Research Award (2012), BYU Karl G. Maeser Research and Creative Arts Award (2014), BYU University Professorship (2015) and the American Electrophoresis Society (AES) Mid Career Award (2015).
Graduate Studies
University of California, Berkeley
Chemistry
Microfabricated Integrated DNA Analysis Systems
Undergraduate Studies
Brigham Young University
Awards
1998, Hertz Thesis Prize, Fannie & John Hertz Foundation