Megan Blewett, Hertz Fellow, Explores Multiple Sclerosis Treatments
Despite all the advances made over the last several decades in the battle against multiple sclerosis (MS), one question that still plagues scientists is how to create drugs that can effectively target the disease without causing uncomfortable or even debilitating side effects.
Scripps Research Institute (Scripps) graduate student and Hertz Fellow Megan Blewett is seeking solutions to this conundrum, combining chemistry and immunology to study the most commonly prescribed drugs for MS, an autoimmune disorder that affects more than two million people worldwide and has no known cure. Using mass spectrometry, Megan and her research team are searching for drug analogues that could lessen nausea and other common side effects, while still allowing the body to fend off the pathogens attacking the brain.
"The way I see it, immunology is primarily a chemical phenomenon," Megan explains. "This activation of the immune system is particularly relevant to MS."
In her third year at Scripps, Megan is working with her lab team and Professor Benjamin Cravatt to identify the molecules in the brain targeted by the drugs. The results, she said, could have transformative implications for understanding drug interactions.
"We still don't have a firm basis on how it actually works," Megan said. "There's a lot of interest in which proteins the drug is affecting. Based on the studies, you can say that maybe the side effects are due to the drug hitting other proteins."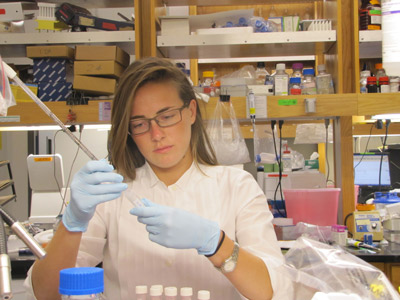 Megan began her PhD at Harvard University in 2011 and transferred to Scripps the following year so she could combine chemistry with immunology and work with mass spectrometry. According to Megan, mass spectrometry is an incredibly useful tool for analyzing blood and discovering which proteins the drugs are interacting with. Her current research has two primary goals: developing new drugs and gaining insight into the basic biology of MS.
"If we figure out what targets this drug is hitting, that brings the question 'can we create analogues of the drug and give a person a lower dose of that drug to hit those targets?'" Megan said.
While the cause of MS is still unknown, Megan said, the speculation is that it may be linked to a virus. The effects of the disease vary — some people appear fine while others develop symptoms like fatigue, vertigo, or numbness in their extremities. If the disease continues eating away at the central nervous system, sufferers can find difficulties in performing simple tasks, often losing muscular coordination and vision.
For most of her young life, Megan has tried to understand the disease. She mapped the geographical distribution of multiple sclerosis while still in high school, thinking the research could provide clues pointing to a cause. "MS is a really interesting disease from a geographical standpoint – the further away you are from the equator, the higher the prevalence," she said. "The more I found out about MS, the more I felt like there was more to be learned about the underlying chemical processes."
Following her junior year in high school, Megan interned at the Broad Institute of MIT and Harvard in Cambridge, where she continued to study the chemical foundations of autoimmune diseases. She went on to Harvard University, where, under mentor E.J. Corey, she studied the mechanisms of different chemical reactions used to create pharmaceuticals. Megan explained that Corey was always supportive of combining immunology and chemistry, and taught her that in science the difference between success and failure is a razor's edge. "He always taught me to keep digging," she said of Corey. "There was never anything to go unnoticed."
Megan earned a Hertz Fellowship in 2011, an accolade that not only gave her the support she needed to move across the country and follow her passion, but also connected her to scientists and researchers with vast and varied backgrounds. "The Fellowship was a game changer for me," Megan said. "Not only did it give me the benefit of independent research but being part of the Hertz Fellowship has been essential."
Megan's Hertz Fellowship ends in Spring 2016. By then, she hopes to be finished with her doctorate. Now that her current project is nearly complete, Megan is working on publishing the findings. She will also continue researching different drug analogues to see if they're more effective at boosting the immune system than current treatments.
"You want a drug that will minimize side effects but still allow the person to react to a virus," Megan said. "It's a difficult line to walk because it's hard to find drugs that do one without the other."
An avid runner and marathoner in her spare time, Megan is also fluent in Chinese. Her latest hobby is learning to fly helicopters, which she practices along the "stunningly beautiful" San Diego coastline.