In 'Find Your Path,' Leading Scientists Offer Career and Life Lessons
Rainer Weiss flunked out of MIT years before winning a Nobel Prize for Physics in 2017. Renee Horton of NASA reclaimed her dream to become a scientist after dropping out of school, going on to become the first African American woman to complete a Ph.D. at her university. Ethan Perlstein was turned down for 27 academic positions before deciding to start his own research lab with startup funds from angel investors.
In "Find Your Path: Lessons from 36 Leading Scientists and Engineers," author Daniel Goodman presents the candid reflections of leading scientists and engineers working in three areas—the entrepreneurs, the academics, and the public servants—in hope that their experiences will help others navigate similar terrain.
"Find Your Path" is sponsored by the Fannie and John Hertz Foundation, a not-for-profit organization dedicated to empowering America's most brilliant minds in science and technology through its renowned Hertz Fellowship. The book engages with the reflections of leading scientists and engineers, many of which got their start through a Hertz Fellowship, on spontaneous career decisions, but also serious, institutional obstacles including gender bias and racism they encountered along the way.
"The idea for this book came to me after I heard Kimberly Budil speak at a Hertz Foundation workshop. She described how she balances family responsibilities with her commitment to her work for the government, and I could see that her experience could benefit a larger audience," says Goodman. "So, with support from the Fannie and John Hertz Foundation, I started a 5- year career guidance project, collecting these personal narratives, including as many diverse voices, experiences, and disciplines as I could find."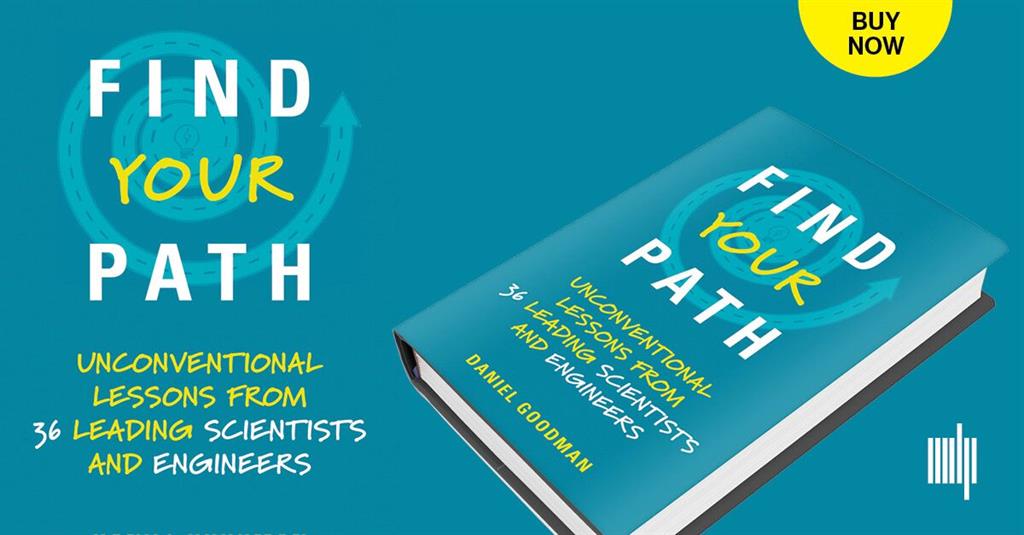 Through his meticulous selection of innovative thinkers—including two Nobel Prize winners, 18 Hertz Fellows, the first African American woman to receive a Ph.D. in physics from Johns Hopkins University; the third woman to achieve the rank of 4-star general in the United States Air Force, and more—Goodman compiles a diverse and compelling series of in-depth personal narratives that provide not just career advice, but also life advice. The narratives explore varying preferences for solitary research or collaborative teamwork; attempts to achieve work-life balance; and unplanned changes in direction that resulted in a more satisfying career.
"Find Your Path" is a must-have book or gift for undergraduate and graduate students in STEM fields, newly minted PhDs, their advisors, and mid-level scientists looking for inspiration.
"Everyone has different bumps in the road and the path may not always be clear," concludes Goodman. "I hope by presenting these stories in this way, the book will become a guidepost for science, technology, engineering and math (STEM) professionals who are facing similar challenges—whether they are looking for their first job or their next stepping stone."
The book features Stephon Alexander, Norman Augustine, Wanda Austin, Kimberly Budil*, Wendy Cieslak*, Jay Davis*, Tamara Doering, Stephen D. Fantone*, Kathleen Fisher*, David Galas*, Kathy Gisser, Sandra Glucksmann, Daniel Goodman*, Renee Horton, Richard Lethin*, Christopher Loose*, John Mather*, Richard Miles*, Paul Nielsen*, Michael O'Hanlon, Deirdre Olynick*, Jennifer Park, Ellen Pawlikowski*, Ethan Perlstein, Richard Post, William Press*, Beth Reid, Jennifer Roberts*, Jessica Seeliger*, David Spergel, Ellen Stofan, Daniel Theobald, Shirley Tilghman, Jami Valentine, Z. Jane Wang*, Rainer Weiss. * indicates Hertz Fellow
About Daniel Goodman
Daniel Goodman is Director of Advanced Technology at ASM-NEXX, a Massachusetts- based company that produces semiconductor capital equipment. He is a Hertz Fellow and a member of the Board of Directors of the Fannie and John Hertz Foundation.
About the Fannie and John Hertz Foundation
The Fannie and John Hertz Foundation is a not-for-profit organization changing the world around us by granting freedom of American scientific research and innovation through fellowship and financial support. Launched in 1963, the Hertz Fellowship is the most exclusive fellowship program in the world. Our 1,200+ Hertz Fellows are the leaders, shapers and disruptors of American science, engineering and mathematics. We welcome philanthropic partners to join in support of Hertz Fellowships. For more information, visit www.hertzfoundation.org.