COVID-19 Clinical Trial for People with Recent Exposure
Featuring the work of: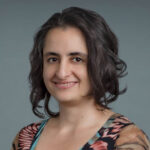 A national clinical study with multiple locations is recruiting people who've been exposed to COVID-19 but haven't developed symptoms.
The new study, led by the University of Washington Medical Center in Seattle in collaboration with New York University Langone Health, seeks to determine if hydroxychloroquine, an anti-malaria drug, can prevent COVID-19 from developing in people who've been recently exposed to the virus.
"We are actively recruiting people who have no COVID-19 symptoms but who have been in close contact with someone who has been diagnosed. They might be medical personnel or a patient's caregiver," said Anna Bershteyn, PhD, the study's co-principal investigator, an NYU Langone Health assistant professor, Department of Population Health, and a fellow of the Fannie and John Hertz Foundation.
Researchers will recruit 2,000 participants ages 18 to 80 from western Washington State; New York, New Jersey, Connecticut, Baltimore, Washington, DC, Boston, New Orleans, and Los Angeles. Recruitment will last until this summer when the study reaches full enrollment.
Volunteers can apply to participate via the project website, www.covidpep.org, and will know if they're eligible within a day. Counseling is conducted online, using a HIPAA-compliant telehealth program, and drugs are delivered to participants' homes. The researchers and participants do not interact in person.
"Telehealth ensures that participants stay safe and can participate in this important study without having to leave home," said Bershteyn.
Participants will receive either hydroxychloroquine or a placebo pill (vitamin C) every day for two weeks. Each day during the 14-day period and then again on day 28, the participants will swab their nasal passages and send the samples to researchers so they can detect any new COVID-19 infections.
If everything goes as planned, the eight-week trial could provide answers by June or July on whether a preventive dose of the drug is safe and effective. If it works, the strategy could slow person-to-person transmissions.
The new study builds on smaller studies in France and China that found that patients who had COVID-19 shed less of the virus from the nose after taking hydroxychloroquine (Plaquenil) in combination with the antibiotic azithromycin (Zithromax). The data were promising, but controlled clinical trials are needed to confirm the effectiveness of the drug, which is used to treat malaria, lupus and rheumatoid arthritis.
The $9.5 million study is being funded by the COVID-19 Therapeutics Accelerator, an initiative launched by the Bill & Melinda Gates Foundation in partnership with the Wellcome Trust and Mastercard to speed the identification and testing of potential treatments. The study began March 24 and enrolled its first participant 10 days later.
The post-exposure prophylaxis (PEP) trial was inspired by similar efforts to prevent infections in people exposed to HIV. For example, when a medical worker gets pricked by a needle from somebody who has HIV, anti-HIV drugs started soon after exposure often prevent the person from becoming infected, Bershteyn said.
Much of Bershteyn's research has focused on HIV, beginning in graduate school at the Massachusetts Institute of Technology, where she received both a BS and a PhD in materials science and engineering. The Fannie and John Hertz Foundation funded her graduate work from 2006 to 2010 and continues to facilitate collaboration among its 1,200 Hertz Fellows.
Bershteyn continued this work at the Intellectual Venture Institute for Disease Modeling, an organization started by Hertz Fellow Philip Welkhoff with Gates Foundation funding. She developed mathematical models for global disease control and eradication for a decade before moving to New York last September.
The trial also builds on Bershteyn's research on how best to deliver life-sustaining care in sub-Saharan Africa. At the February Conference on Retroviruses and Opportunistic Infections, she and her colleagues presented results on delivering treatment to HIV-infected people in their communities.
"You don't want people who are sick to travel to a clinic to initiate treatment or to give specimens," Bershteyn said. "We found that we could diagnose and treat people by sending staff or a staffing van to patients' homes. Just as with COVID-19, patient safety is an issue."
Bershteyn is conducting the clinical trial from home while her parents help out with her children, ages two and eight. "I talked to my family and told them that I would be very busy. I wake up and start work. When I can't keep my eyes open, I go to sleep," Bershteyn said.
But she has no regrets. "It's a privilege to be doing this," she said. "I can't speak highly enough about the team that has come together on this study. They are kind, thoughtful, and hardworking people. It's hard to imagine doing anything else."