Innovation Hour
Opening the Infrared Treasure Chest with the James Webb Space Telescope
February 22, 2023
At the February 2023 Hertz Innovation Hour, Hertz Fellow and Nobel Laureate John Mather discusses results from the first year of the James Webb Space Telescope (JWST), the largest, most powerful, and complex space telescope ever built and launched into space.
A little over a year since its launch, the James Webb Space Telescope has amazed the scientific community, allowing us to learn how galaxies form and grow, capture the first direct image of an exoplanet, and observe distant never-before-seen galaxies. The discoveries will continue as the telescope orbits the sun, giving greater insight into our universe. Mather will discuss results from the first year of JWST and what they hope to observe in the future.
This Hertz Foundation Innovation Hour will take place live on Wednesday, February 22, 2023, from 12:00–1:30 p.m. Pacific, using the Zoom video conference platform. You can attend on a desktop, mobile device, or by phone. Please register using the form below, and we'll email you the Zoom meeting information.
If you have any questions, please don't hesitate to contact us.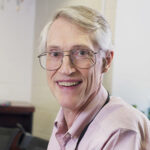 Registration
Thank you for your interest. Registration is now closed.