Innovation Hour
Ultrasound on a Chip
March 15, 2021
---
At the March 2021 Innovation Hour, Hertz Fellow Nevada Sanchez will discuss the Ultrasound-on-Chip technology behind Butterfly iQ, the world's first handheld whole-body ultrasound system.
Designed to be HIPAA compliant and ultra-secure, the Butterfly iQ device generates clinical-quality ultrasounds on a smartphone. Handheld and low-cost, it can make imaging accessible in the remotest parts of the world, including for the 4.7 billion people around the world lacking access to ultrasound. And Butterfly iQ can scan everything—a fetus, tumors, broken bones, pneumonia, kidney stones and heart conditions.
Nevada will share his motivation for creating the device and discuss the value in every doctor and nurse having an ultrasound in their pocket.
This Hertz Foundation Innovation Hour will take place live on Monday, March 15, 2021, from 12:00 – 1:00 p.m. Pacific using the Zoom video conference platform. You can attend on a desktop, mobile device, or by phone. Please register using the form below, and we'll email you the Zoom meeting information.
About the Speaker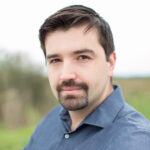 Nevada Sanchez is the co-founder and VP of Core Technology at Butterfly Network, Inc. where he developed the Ultrasound-on-Chip technology behind the Butterfly iQ, the world's first handheld whole-body ultrasound system. In 2010, Nevada graduated from MIT with a dual Bachelor of Science in Electrical Engineering and Computer Science (EECS) and Mathematics and a minor in Physics. In 2011, Nevada received a Master of Engineering in EECS, where he developed computational hardware and software for a novel radio telescope concept for imaging the early universe. Nevada is also a Hertz Fellow and has been granted 55 patents.