Creating Opportunities for Early Career Scientists
Featuring:
Hertz Fellow Paul Young believes early-career opportunities and choices are critical to determining a scientist's later impact. It's why he gives so generously to the Hertz Foundation, with both his time and money.
"I mainly believe what goes around comes around. I had a few good opportunities at critical points in my life, and they made a big difference to me," he said.
Young, who is a retired managing director of the investment firm Goldman Sachs, has served on the Hertz Foundation Board of Directors since 2014, and was named treasurer in 2019.
Generous opportunities
Among Young's opportunities was the Hertz Fellowship. A student of modest means who worked full-time at a supermarket during high school in New Hampshire, he depended on a fellowship to finance his pursuit of a PhD in applied physics at Harvard. The Hertz Fellowship was the most generous of those offered to him. It also provided a window for exploring career possibilities.
"Because the Hertz Fellowship supported me so generously, my summers were free. So, I was able to spend one summer at Lawrence Livermore Lab, getting to know what life is like at a national lab. I was able to spend another summer at IBM Yorktown Heights, looking at what industrial research was like. I couldn't have done that without the Hertz Fellowship," he said.
Those opportunities motivated him to make a donation that increased the amount of each fellow's stipend, to ensure that the fellowship program remained competitive.
"Hertz was extremely instrumental in forming me as an adult professional, and I place great value on the fellowships. It's very important that this tradition goes on," he said.
"The Hertz Foundation was instrumental in establishing my career. I feel I owe the foundation and the future Hertz Fellow."
Lasting influence
Young funds two named fellowships: one that bears his name, and one named in honor of Lowell Wood, the former Hertz Fellowship interviewer. For Young, the influence of the Hertz Foundation began with the interview itself.
His Hertz interview experience taught him what to look for when interviewing someone, and how to conduct a fruitful exchange.
"An indicator of success isn't just what a person knows; it's what they bring to the table," he said.
Intangible qualities like leadership and creativity, along with a record of achievement, are the best indicators of people who are positioned to translate knowledge into tangible impact. They are also the cornerstones of the Hertz Fellowship selection process.
With more than 800 candidates for fewer than 20 fellowships each year, finding young scientists who fit the criteria is easy. Funding all of the worthy candidates is a challenge – one that Young would like to see met.
"I want Hertz to be able to continue to attract the very best applicants to join our community – applicants who study cutting-edge research, what they think is going to be important in the future, rather than what is popular with the public or dictated by funding agencies," Young said.
Solving the many vexing problems of the world is dependent on such freedom, he said, and the Hertz Foundation is one of the only organizations providing it.
Critical access
Funding is only part of the equation, however. Young believes that access to mentors in the Hertz community is also critical to helping young scientists on the path to impact. In addition to funding fellowships, he makes himself available to the recipients, as well as to any other fellows who seek his counsel.
"I take the view that if a member of the Hertz community wants my time, they've got it. I'm always happy to mentor young people. Some of the most important decisions in my life I made well because a senior person with experience took an interest in me," he said.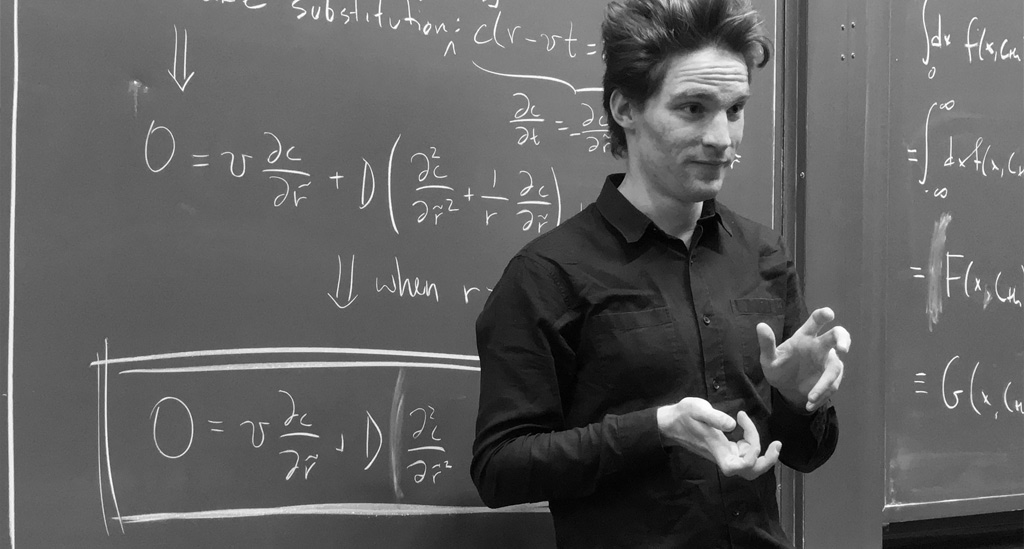 His mentorship has included spending time with Hertz Fellow Paul Dieterle, who is coincidentally following in his footsteps, with an applied physics degree from California Institute of Technology and PhD studies at Harvard University. Dieterle visits New York frequently, and the two have developed a relationship, discussing "everything from the Napoleonic Wars to his research and career," Young said.
"To be an effective mentor, you can't just talk to someone once and give them good life advice. You first have to get to know them. Then, you can start answering their questions about what they might do, career-wise, or give them other advice," he said. He hopes his influence extends to his peers as well.
"The Hertz Foundation was instrumental in establishing my career, which was very financially rewarding. I feel I owe the foundation and the future Hertz Fellows," Young said. "I hope other wealthy Hertz Fellows come around to similar thinking."
---
Support the Next Generation
When you give to the Hertz Foundation, your investment helps a promising innovator tackle the world's toughest challenges–from the health of our families to the health of our planet.
Give to the Hertz Foundation