Innovation Hour
Mapping Whole-Brain Circuits
September 15, 2021
At the September 2021 Innovation Hour, Hertz Fellow Chris Own will share breakthroughs and challenges in mapping synaptic-level neuroanatomy using automated ultra-high-throughput electron-optical imaging.
New ultra-high-throughput petascale imaging solutions developed at Voxa, called Blade™, can automatically and rapidly scan and reconstruct relatively large volumes of ultrathin-sectioned brain tissues in 3D for the first time. This enables neuroscientists to elucidate and trace computational structures and their interconnections in exquisite detail in some of the largest structured data volumes ever created, including the newly released IARPA MICrONS cubic millimeter dataset. Beyond connectivity, having all voxels available within such finely resolved large volumes opens new lines of inquiry in studying bodily systems, providing insights with significant benefit for numerous areas of human health.
This Hertz Foundation Innovation Hour will take place live on Wednesday, September 15, 2021, from 12:00–1:00 p.m. Pacific, using the Zoom video conference platform. You can attend on a desktop, mobile device, or by phone. Please register using the form below, and we'll email you the Zoom meeting information.
If you have any questions, please don't hesitate to contact us.
---
Registration
---
About the Speaker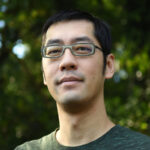 Christopher Own is the founder of Voxa, where he creates instruments that deliver improved understanding of materials and biological systems at the sub-micrometer scale. Chris has more than two decades of experience in scientific instrumentation with a focus in electron microscopy and analytical chemistry. He has started three companies and worked with startups to commercialize novel charged-particle based automated nanoscale imaging and characterization technologies. His current teams have helped researchers produce some of the largest anatomical datasets ever created and have sent the first electron microscope to space.